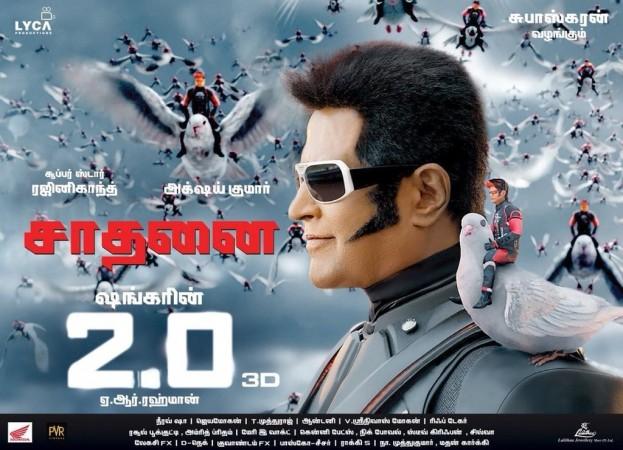 Rajinikanth's 2.0 has ended its second weekend on a decent note at the US box office. The movie, which is now the highest grossing Tamil movie in the North America, has sustained the momentum although the movie is still far away from beating the records of the Baahubali series.
By the end of its 15 days in the US, 2.0 has grossed around $5,224,282 in the US. The movie is still being polled in over 200 locations and the business is expected to substantially increase on Saturday. The trade experts are predicting the multilingual flick to reach $6 million mark in its lifetime.
However, the chances of 2.0 beating the Baahubali 1 record ($6,999,312) are very slim as the business has stared declining in the North America. This weekend is crucial for it to achieve the feat as the movie is expected to lose lots of screens by next weekend due to a series of Christmas release from different industries.
Among the South Indian movies, Baahubali 2 is in the list of highest-grossing Indian movies in the US by raking in $20,571,695 in its lifetime. This record will remain unbeatable till a similar movie with PAN Indian appeal hits the screens in multiple languages, opine trade trackers.
However, 2.0 might settle in the third place in the list.
2.0 in India
The Shankar's creation has grossed over Rs 220 crore in North India, whereas it has estimated to have grossed over Rs 230 crore from South India. The domestic gross of Lyca Productions-funded movie is estimated to be over Rs 450 crore.
2.0 is made with the budget of Rs 570 crore. The theatrical rights of the Akshay Kumar's flick is valued at Rs 375 crore. The makers have earned around Rs 220 crore from the sale of satellite and other rights.
As per the trade experts, Rajinikanth-starrer should gross around Rs 750-800 crore in order to be declared a hit at the box office. However, the release of 2.0 in China in May 209 might help the flick to enter into profit zone.