Ever since Reliance Jio came into India, the telecom market has undergone a massive 4G revolution. Despite ranking as the world's number 1 mobile broadband market by consuming more data than users in China and the US, but India lagged with 5.6Mbps average connectivity speed. But what Bengalureans witnessed on Wednesday changes the perception of India's state of the internet – at least in the wired broadband segment. And this is not coming from Reliance Jio.
ACT Fibernet expanded its 1Gbps broadband service to Bengaluru on December 13 in the presence of Karnataka's Minister of IT, Bio Technology, Science & Technology and Tourism Priyank Kharge, Atria Convergence Technologies founder and Managing Director Sunder Raju, and the company's CEO Bala Malladi.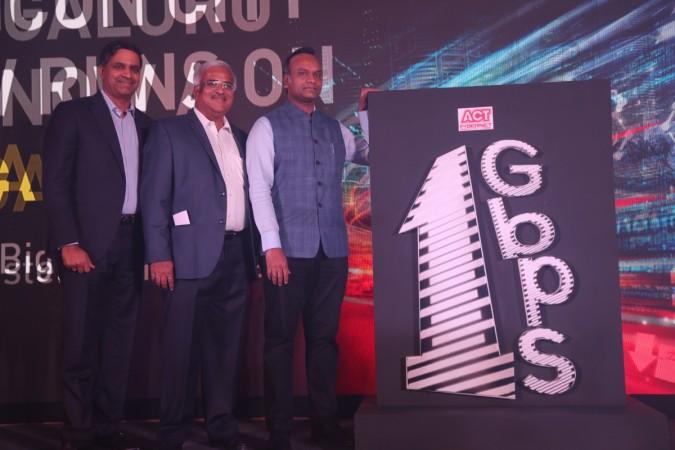 Internet connectivity is a crucial part of everyone's lives and consumers' demand for faster speeds is hardly met. But with ACT's launch of 1Gbps wired broadband internet service, demanding customers may finally be content.
Bengaluru is the second city to have received ACT's GIGA connection, which serves a great deal for startups, SMBs and consumers living in the so-called Silicon Valley of India.
With faster internet speeds, innovative and futuristic technologies are expected to get a significant boost -- from VR to animation and beyond.
IBTimes India witnessed the 1Gbps setup at the launch event in Bengaluru, and it truly exceeded our expectations. Moreover, the LAN connection on 1000Mbps was pitted against the 100Mbps connection to show the difference, and the latter seemed nothing more than a dial-up in real-time comparison.
The live test was conducted with a 2.2GB file, which took less than 20 seconds to download on a 1Gbps wired connection, whereas the 100Mbps connection downloaded less than a quarter of the same file in that time. It took over 2 minutes to download the 2.2GB file on a 100Mbps connection, which is great, but nothing beats 20 seconds.
"With future-ready technology and extensive fiber broadband connectivity, we believe we are a disruptor in the Indian broadband industry and have successfully set a benchmark for several other players," the company said in a statement.
It's worth mentioning that 1Gbps speed was achieved on a wired connection, but one of the representatives at the demo zones said ACT can deliver up to 600Mbps on wireless in a decent close range.
Congratulating ACT Fibernet on the successful launch of Gigabit connection in Bengaluru after Hyderabad, Kharge said: "It is a matter of pride that ACT Fibernet being a Bengaluru founded start up, has become pioneer in India to introduce 1 Gbps broadband connectivity in the country and by launching this in Bengaluru today, it would only further enable us to digitise the entire city and supplement the Government of Karnataka's Vision along with India's vision to be leader in the digital economy.
He added: "The launch of 1Gbps Internet in the technology capital of India further strengthens Bengaluru's position as a true Global City. I wish the very best to ACT Fibernet and I'm sure they will play a very important role in the Internet industry of India."
ACT also revealed the tariffs for its 1Gbps broadband plans, and they are as follows:
ACT GIGA plan for 1 month: Rs. 5,999 (FUP: 1,250GB, 1Mbps post FUP)
For those who subscribe for a six-month plan by paying Rs 35,994, ACT is offering one month free service.
And for those who subscribe for a 12-month plan by paying Rs. 71,998, ACT is giving away two months free Giga internet broadband.
For small enterprises, there's an ACT SME GIGA Plus plan, which gives 5TB FUP limit and 5Mpbs post that for a monthly rental of Rs 15,000.
ACT Fibernet's 1Gbps competes directly against Airtel V-Fiber and Reliance Jio's upcoming fiber broadband with 1Gbps speeds. It remains to be seen how Jio's entry will impact the broadband segment and what the service providers have in store for consumers in the near future. Stay tuned.