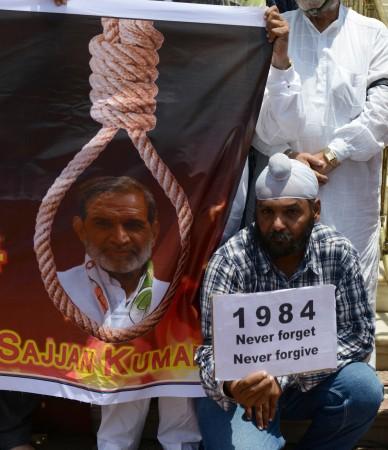 The Delhi High Court on Monday convicted Congress leader and former Member of Parliament (MP) Sajjan Kumar in the 1984 anti-Sikh riot case. Kumar was acquitted by a trial court in 2013.
The 73-year-old has been found guilty of murder and promoting enmity between different groups. He has to surrender by December 31.
The HC bench comprising Justices S Muralidhar and Vinod Goel gave the verdict after hearing arguments on appeals filed by the Central Bureau of Investigation (CBI), riot victims and other convicts.
"It is important to assure the victims that despite the challenges truth will prevail," the High Court said in its ruling.
The prosecution's key witness, Cham Kaur, had told the court that she saw Kumar addressing a mob in Delhi's Sultanpuri neighbourhood on October 31, 1984, and saying that Sikhs have killed "our mother", referring to then PM Indira Gandhi.
Kaur said two of her family members were murdered by the mob following Kumar's communal comments.
Earlier, Sheela Kaur, another witness, had also identified Sajjan Kumar as the one who organised the riots.
Kumar has been convicted under the sections 120-B, 147,148, 302, 395, 427,436, 449, 153A, 295, and 505 of the Indian Penal Code (IPC).
Along with Kumar, former Congress councillor Balwan Khokar, Captain Bhagmal Singh, Giridhar Lal and two others have also been found guilty in the case.