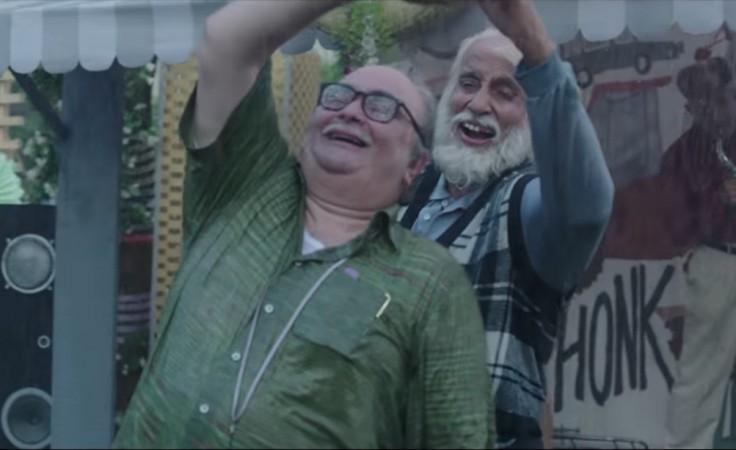 There's a reason why veteran actors Amitabh Bachchan and Rishi Kapoor are still in the film-making business. They have entertained us all for over the past few decades, but they still manage to surprise us with their sheer acting talent and bring out something new on the celluloid. And that is what you witness when you will watch the recently released trailer of their upcoming film 102 Not Out.
In the 2 minute 55 second trailer, Amitabh Bachchan, who plays the role of a cheerful and lively 102-year-old father, decides to become the oldest living person on earth. His 75-year-old son, played by Rishi Kapoor, on the other hand, has accepted his old age and that he has nothing else to do in his dull life.
Their unusual relationship takes a 360 degree spin when the father decides to send his son to an old age home and later persuades him to write a love letter to his wife.
The trailer is filled with many light moments which will definitely cheer you up. The funny and witty banter between a father and a son is something which will connect with the audience, especially the older ones.
Amitabh Bachchan, as a 102-year-old father, owns his character and keeps you glued to your seats. Rishi Kapoor, on the other hand, is equally wonderful on the screen. Their brilliant performance once again reminds us of their capability of portraying a wide of range of characters.
And as Big B and Rishi Kapoor have impressed the moviegoers in the past with their roles in movies like Piku and Kapoor and Sons, the duo, which is back after 27 years, will surely tickle your funny bone with their fun and chemistry.
102 Not Out is based on playwright Saumya Joshi's well known Gujarati play by the same name and has been adapted into a feature by him.
Watch the trailer here:
Directed by Umesh Shukla, 102 Not Out is slated to hit the theatres on May 4.