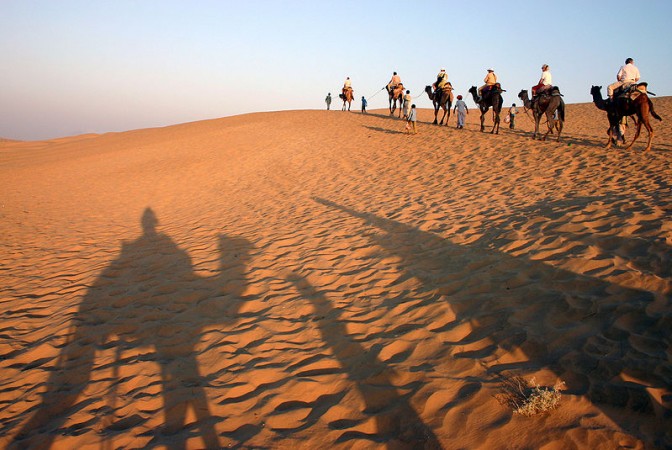 The Indian state of Rajasthan is one of the most colourful places in the country, where one cannot help dreaming about Scheherazade and magic carpets. With desert spread across kilometers and bumpy camel rides, it is one of the most preferred tourist destinations.
The state is famous for its Forts, its lifestyle and the rich cultural heritage passed on to generations. Here are ten delightful facts about Rajasthan that will tempt you to leave everything and book a flight right away.
1. There are cities in Rajasthan, which have official nicknames. While the capital city of Jaipur is known as the Pink City because all the forts being pink in colour, Udaipur is known as India's White city as well as City of Lakes. Jaisalmer is India's Golden city and Jodhpur is India's Blue city
2. While Rajasthan does have vast deserts, like the Thar near Jaisalmer, it also has a lot of greenery that lends a very dreamy look to the state.
3. One can find beautiful fields in the middle of the state. While travelling from one city to another, you will come across numerous fields of Maize, Bajra, Jowar, pulses, ground nuts and other oil seeds.
4. Rajasthan looks magnificent in monsoons with the skies appearing to be a painter's canvas.
5. Messages on the back of the trucks will have you in peals of laughter. Every truck appears to have witty one liners written and even has some sultry images of actresses
6. If you love old songs then cabs in Rajasthan are your haven. You will find a variety of such songs in the playlist of the taxi drivers there, which when played will take you back in time.
7. Women in ghunghats (veil) and men in turbans will please you with their hospitality. If you visit their home, they will not only welcome you with open arms, but will also coax you into having a meal with them. You will not be allowed to leave, unless you drink some water.
8. While their colourful and ethnic attire will catch your eye, their loving and warm nature will touch your heart.
9. Even though Rajasthan is a desert, it has beautiful Jalmahal in Jaipur, Rajsamand Lake in Udaipur, Pushkar Lake in Ajmer and of course Chambal River near Kota. Rajasthan is also famous for its hill station Mount Abu.
10. Pushkar town in Rajasthan is host to one of the biggest fairs in the country. The Pushkar Mela is an annual five-day livestock fair and has become a major tourist attraction in the last few years.