Looking for smartphones for the first time? Don't be surprised if you are bombarded with options you didn't think were possible a few years ago. The abundance of worthy smartphones in any price range easily muddle up what is otherwise a simple task. Walk into a store, walk out with a handset.
That's how simple it was, but the boom of the online market and entry of Chinese OEMs has changed the game for all.
10.or (pronounced Tenor) is a phone brand that's "crafted for Amazon", and the latest handset 10.or D is aiming for the sky. The ultra-affordable smartphone market is dominated by the likes of Xiaomi, Motorola, Nokia, and others, but 10.or D paves the way for its maker into the coveted race.
We already discussed the design of 10.or D in a previous article, in which we pointed out the odd placement of the power button above the volume control. We managed to get a hang of it after using it for several days.
Adjusting to this odd placement is certainly a challenge if you've always used full-touchscreen Android smartphones. But that's something we truly wished hadn't been the case in the first place. We somehow moved on...
The display, which measures 5.2 inches and has 1280x720 pixels, did not make us feel wanting for more. It's small enough to fit into the hand for single-hand use and big enough to watch periodic videos and browse endlessly through social media channels.
Even for watching movies, we could not be demanding more than what 10.or D offers, but it's not the best practice considering a lot of details were amiss on a screen with such low resolution.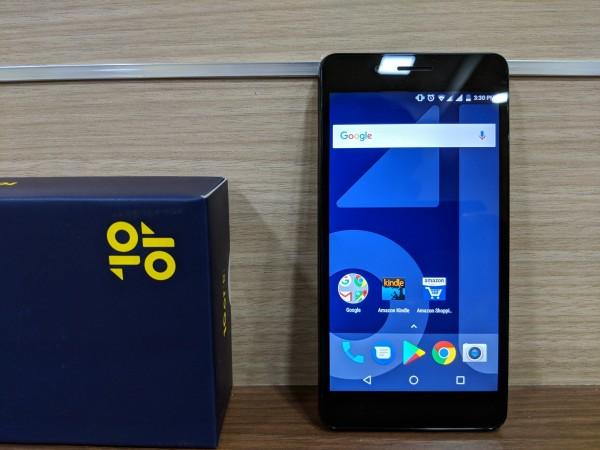 On the brighter side, the colours did not seem washed-out or didn't make us strain our eyes even while using 10.or D under sunlight (as long as you had the brightness set to maximum). For some reason, the adaptive brightness didn't seem to work for us. It could be a software thing, easily fixable via an update.
Now to the more important aspects of the 10.or D, which will determine its success or failure.
Camera
Let's start with the camera. We must say, there were surprising moments where we went from "Oh, wow" to "this could be better." Low-light photography is a sensitive area, which 10.or D seemed to have managed fairly well.
On the other hand, it failed to capture natural colours and sharper details even with good lighting.
The 13MP rear snapper doesn't do an excellent job, but you can only ask for so much from an ultra-affordable smartphone that's priced Rs 4,999 (or Rs 5,999 if you choose 3GB RAM + 32GB ROM).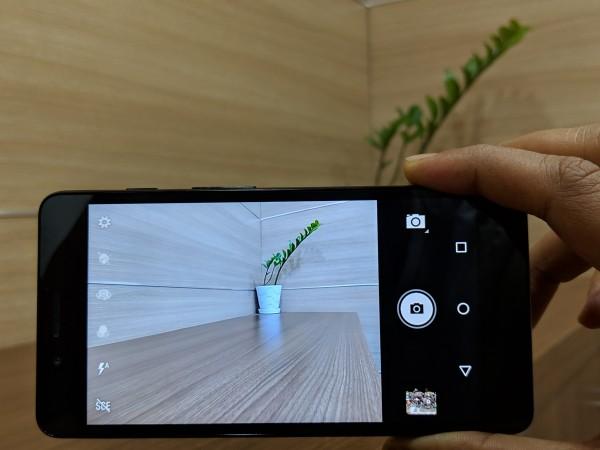 See it to believe it:
Selfies using the 5MP sensor on the front had similar results. Not too impressive, but you'll be able to make up for the lack of details using the beautification feature. With the right amount of softening, whitening, slenderising and more, you'll have that perfect Instagram-worthy picture in no time.
Performance
Now for the performance bit, where we found room for improvement. Your day-to-day life will not be affected by 10.or D, but it won't be enhanced either. We did not run any high-GPU games as the handset runs on only Snapdragon 425 chipset paired with 3GB RAM (that's our review unit), but it handled daily operations like calling, texting, browsing, social networking and alike pretty well.
But we couldn't help but notice lag while launching or switching apps or even scrolling through the Facebook for long. Otherwise, there were no app crashes, no heating problem, and no surprise shutdowns or other issues. The fingerprint-scanner accurately identifies the user and unlocks the phone, but we noticed a slight delay in doing so.

Battery
Finally, coming down to the battery, we were able to last a full day and were left with 30 percent juice while using 10.or D as a secondary device. But as a primary one, the phone needed to be charged at the end of a working day (8-9 hours average) with constant use of the internet, apps, and calling – which is the magic of a 3,500mAh battery.
Sadly, you'll need to be patient with the charging time as it took us three hours to get from 0 to 85 percent.
Verdict
Pros
- Handy design

- Bright display

- Fingerprint scanner

- Lasting battery

- Good selfies and low light photos on main camera

- Effective pricing

Cons
- Odd placement of power button

- Rear camera lacks details

- Slow, slow charging

- Delays launching apps

- On-screen navigation buttons despite thick bezels
10.or D isn't flawless, but it aspires to be one of the top choices for a smartphone under Rs 6,000. And to most extent, it manages to achieve that. We reviewed the 3GB RAM variant, which is priced Rs 5,999, but if you're okay with lags on multi-tasking there's a 2GB RAM variant for Rs 4,999.
For this price, 10.or D is certainly a steal even though it misses a few marks. But 10.or checks all the right boxes for a decent budget smartphone for someone who doesn't want to follow the masses. The phone is available exclusively on Amazon India.