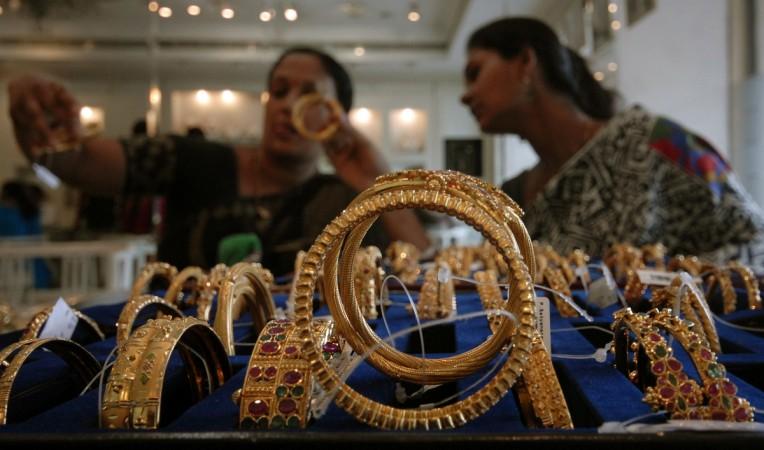 In response to the government withdrawing the 1 percent tax on cash purchase of gold jewellery, share prices of companies such as PC Jeweller and Tribhovandas Bhimji Zaveri (TBZ) rose on Tuesday despite the Sensex falling by about 80 points.
The PC Jeweller stock was up 1.30 percent at Rs. 366.50, while TBZ shares were trading with a gain of 5.63 percent at Rs. 67.50 a piece at around 11.25 a.m. on the BSE. Titan shares were, however, trading with losses.
Earlier on Monday, the government reversed a decision to impose 1 percent tax on cash purchases of gold jewellery of up to Rs. 2 lakh and above with effect from June 1. The limit has been restored to the earlier Rs. 5 lakh, reported the Financial Express.
The S&P BSE Sensex was trading with losses on Tuesday, reversing a five-day gaining streak. The 30-scrip index opened with gains over 100 points, but sentiments turned bearish later.
At 11.50 a.m., the Sensex was trading at 26,654, a decline of 73 points.
Sun Pharma was the biggest Sensex loser, down 5.85 percent, followed by GAIL (India), Infosys and TCS. On the other hand, Tata Motors was the biggest Sensex gainer at 6.84 percent.
In the evening, the government will be coming out with March quarter GDP numbers. The consensus figure is 7.5 percent, higher than 7.3 percent in the preceding quarter. A Reuters poll has also estimated the growth rate for March quarter at 7.5 percent.
Howeve, DBS Bank analyst projected a growth rate of 7.1 percent.