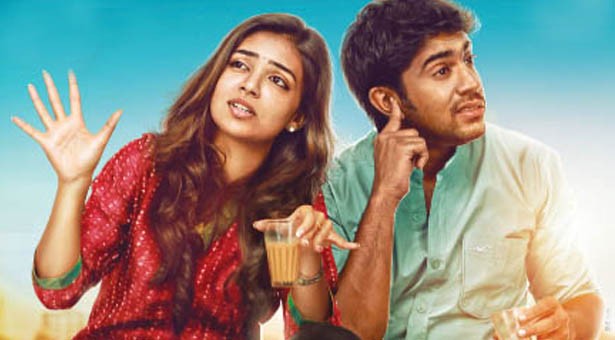 "Neram" (Time), a Tamil-Malayalam bilingual film, has received positive response from film critics for its wonderful narration and good performances.
The film was released last week in Malayalam but the Tamil version hit the theatres on 17 May.
"Neram" is a romantic-comedy thriller that signifies the theme that time is an essential factor in life. The film is about how a young and jobless man deals with several unexpected challenges he faces in a particular day.
Vetri (Nivin Pauly) is a software engineer, who loses his job, as the company he worked for faces a financial crisis. Unfortunately, the young man, who had taken a loan from moneylender (Simhaa), had failed to pay the interests of a few months.
The moneylender sets a deadline to clear all the debts. On the same day, Vetri's girlfriend Jeena (Nazriya Nazim) is forced to leave her house as her father (Thambi Ramaiah) is against getting his daughter married to a jobless man. He wants her to breakup with Vetri and marry a man of his choice. Moreover, Jeena's father files a police complaint against him.
To add to his woes, Vetri's brother-in-law demands the pending dowry to begin a new business venture. All these need to be done by 5pm on the same day. The crux of the story is about how the hero solves these problems, with time playing a crucial role.
Directed by Alphonse Putharen, the film runs through one hour and 57 minutes with crisp and interesting narration. Film's good visuals and peppy music is sure to enthrall the audience. Red Giants' Udhayanidhi Stalin has obtained the Tamil Nadu theatrical rights for this film.
Here is what the critics have to say
According to Indo-Asian News Service, "There is absolutely nothing new about the story, yet what differentiates 'Neram' from other films is its brilliant non-linear screenplay, never seen before in Tamil cinema. The film grows on you very gradually despite its brooding first half, but what follows post interval is top class and is worth every applaud or hoot that came its way. With few key characters that are made to run into each other at one point, the film allows for some subtle humour to unfold."
Commenting on the performance of the films' cast, Moviebuzz said, "Nivin may not be a versatile actor, but he has good screen presence and a likeable face. Nazriya has to look beautiful, which she does to perfection. The performance of the supporting cast is one of the highlights in the film and each one of them has to be applauded for that."
Paresh C Palicha of Rediff said, "The plot of the middle class hero always struggling to make ends meet or wallowing in penury which was common in films made some 20 years ago. Here it gets the 'new gen' treatment. So, instead of being helpless, the hero of our times finds innovative solutions for his problems and does not mind putting his friend in trouble to solve his own problems."
According to Indiaglitz, "Now, if we look at direction, storyline and screenplay, the movie is a steal from many movies and the director himself has admitted by showcasing a disclaimer, of course to show off the funny side. A simple storyline that doesn't yawn more than 110 minutes, but there are a lot of slow motions which after a point makes you frown."
"Overall a movie that doesn't make you doze and smiles guaranteed now and then. Kudos to the director for scaling a simple story in a humorous way and the distributors Red Giants are simply scaling new territories with great belief on rookie directors."