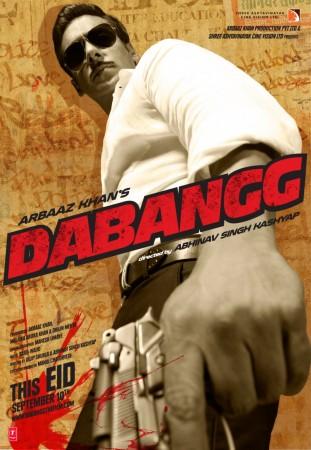 Arbaaz Khan's debut directorial film, "Dabangg 2", has finally made it to the ₹100 crore club in just five days of its release on Dec 21.
The action-comedy film, which stars Salman Khan and Sonakshi Sinha in the lead roles, is holding a strong position at the Indian and overseas box offices. The film is doing amazing business during weekdays, when collections are generally low.
On Tuesday, the movie raked in a total of ₹15.5 crore in India. The overall five day domestic total of the movie now stands at ₹92.66 crore.
The five day breakup of the film is: Friday ₹21.10 crore, Saturday ₹19.06 crore, Sunday ₹25 crore, Monday ₹12 crore, Tuesday ₹15.5 crore, according to trade analyst and film critic Taran Adarsh.
Seeing the rate of the movie's earnings, it appears that the film will surpass the ₹100 crore mark at the domestic box office on Wednesday.
The movie is holding strong at the overseas markets, collecting in ₹21.98 crore ($4 million) in its first weekend.
The three-day breakup of the film in international arena is: UK ₹3.03 crore (£341,619), US ₹5.60 crore ($1,019,213), UAE ₹7.03 crore (AED47, 00,000), Pakistan ₹1.92 crore ($350,000),Australia ₹1.57 crore (A$275,195), New Zealand ₹36.98 lakh (NZ$81,691) and Fiji ₹10.27 lakh (FJD 32,775).
The year 2012 seemed lucky for Salman's films like "Ek Tha Tiger" and "Dabangg 2" in monetary terms. His previous movie "Ek Tha Tiger" shattered all box offices records and emerged as Bollywood's second highest grossing film ever after "3 Idiots".
Meanwhile, the overall domestic plus overseas collections of the film has surpassed the ₹100 crore mark. The worldwide total stands at ₹114.64 crore. Because of the New Year holiday and no other release this Friday, the business of the film is expected to surge further.
Also Read:'Dabangg 2' Box Office Collection: Salman Starrer Slumps; Earns ₹ 166 Crore Worldwide
Also Read: 'Dabangg 2' Box Office Collection: Salman Starrer Earns ₹ 99 Crore Worldwide In Four Days