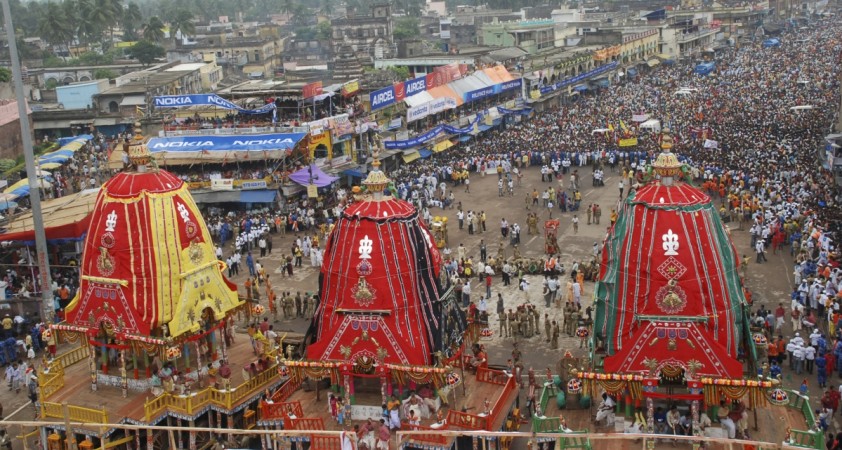 The holy Hindu festival of Rath Yatra is scheduled to take place on July 6 in 2016. The celebration for the festival is done in a grand manner in the Jagannath Puri temple, one of the four Hindu shrines, in Odisha.
Hundreds of devotees flock to the beach town during the celebration.
The festival is a celebration of Lord Jagannath travelling with his siblings, Lord Balbhadra and deity Shubhadra, to the temple of Queen Gundicha.
Famous sand artist Sudarsan Pattnaik has created 100 sand chariots for setting a new record on the occasion of Jagannath Rathyatra at Puri Beach, Odisha.
The Railway Ministry has prepared special trains for the festival like every year.
Former Gujarat chief minister Shankersinh Vaghela shared on Twitter images of his experience of the Rath Yatra when he was the CM of Gujarat. The festival is also celebrated in full swing in Gujarat. At least 2.5 lakh people are expected to join the celebration in Gujarat.
Here are some wishes and messages from devotees on the occassion of Rath Yatra in 2016:
May Lord Jagannath bless you and your family on this holy occasion.
May Lord Jagannath bless you with peace, prosperity and happiness.
May Lord Jagannath bless you with good times and prosperity, Happy Rath Yatra.
May Lord Krishna bless you and your family on this holy occassion of Rath Yatra, and bring lifetime of happiness. Happy Rath Yatra.
On this holy occassion, let's celebrate the glory of Lord Jagannath, and pray to him to destroy the evil from the face of earth. Happy Ratha Yatra !
Let us bow to the gods this Rath Yatra, to pray for better times and destruction of evil from earth.
The Rath Yatra can be watched online here.