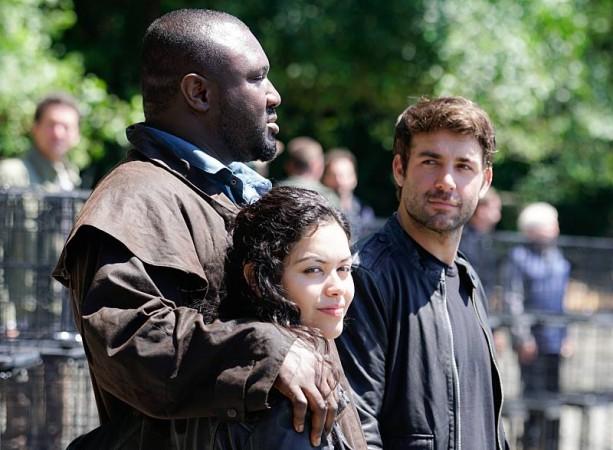 The two-hour Season 2 finale of "Zoo" will be aired by CBS on Tuesday, Sept. 6. Episodes 12 and 13 titled "Pangaea" and "Clementine", respectively, will see the team putting the final pieces together for the cure.
In the previously aired Season 2 episode 11 titled "The Contongency", we saw a whole lot of new problems including unplanned pregnancy, undead fathers and unhinged gorillas. Animal Avengers were focused on finding their missing team member Jackson with every means possible. Meanwhile, Jackson himself will get all the answers he has been searching for, from his dead father.
Obviously there are a lot of things you need to know about Robert Oz, but surprise! surprise! he is not planning on revealing anything, because "there is no time." He does insist on everyone trusting him though, which is the exact opposite of Jackson's instincts. However, towards the end of the episode Robert does redeem himself, by confessing that he was only trying to protect Jackson and his mother from the infection.
Robert claims to be thinking seven steps ahead, and that the next plan of action for them is to visit daddy's pals who will not only save Jackson, but also "save the animals, save the world." In the upcoming Season 2 episode 12 fans will see the father-son duo travelling to meet these friends living in the Island of Pangaea.
Also Read: 'Bridget Jones's Baby' premieres to lackluster reviews
The official synopsis for "Panagaea" reads:
Mitch and Jamie come up with a dangerous plan to undermine the Noah Objective once and for all.
The synopsis for the Season 2 finale episode "Clementine" reads:
The team comes together on the island of Pangaea to put the final pieces of the cure in place.
CBS has already renewed the thriller drama for Season 3, although a definitive premiere date hasn't been revealed. However, we do know that it is slated for 2017, and based on the first two seasons, the Season 3 episode 1 air date can be set on Tuesday, June 27, 2017.
Meanwhile, don't forget to watch Season 2 finale episodes of "Zoo" at 9 p.m. (EST) on Tuesday, Sept. 6. You can also live-stream "Panagaea" and "Clementine" via CBS Live.