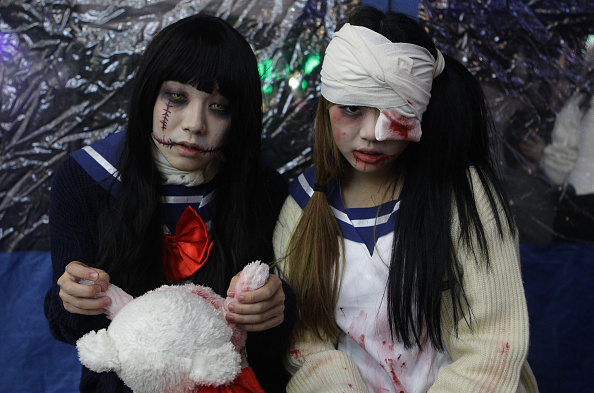 In Korea, Halloween decorations can be spotted in places with maximum expat population and speciality stores selling basic costumes and masks. The tradition is also picking up a different tone with Halloween themed pub and bars. However, Korea has its own Halloween spirit.
Seoul, the capital of South Korea has a dark side to its history. The Korean history has innumerable stories about its eerie past and dark alleys. There are endless ghost stories and urban legends that many Koreans strongly believe in.
Few claim to have had a personal encounter with spirits and ghosts. Korea also boasts many sinister spots across major cities like Prisoners of War Camps where Japanese colonialists tortured Koreans in the pre-independence era to the secluded mountain range where the country's most notorious serial killer discarded his victims.
Korean-themed Halloween costumes do not strictly adhere to being creepy. It could vary from being cute, unique or outright funny. Here is a look at a few Korean inspired Halloween costumes to try out.
The virgin ghost
Koreans believe in ghosts. And a virgin ghost is creepier. The requirements for this costume are quiet simple. Just let your hair down all messed up; and dress in a white oversized gown. To add on to the spookiness, dab a generous amount of white powder on your face with a dribble of red paint for blood. Virgin ghosts are believed to be filled with anger staring at the victim from a corner.
Netherworld messenger
Koreans believe in the netherworld and a messenger who brings news of death. They believe that the emissaries are visible to people on their deathbed. To dress up as a netherworld emissary is simple. All you need is a black overall dress and sabre. Painting the face death white adds more drama to the costume.
Zombies
Zombies never seem to go out of style for Halloween. It is time to make use of tattered clothes paired with a heavy dose of creepy makeup and zombie march.
Horror flick inspired costume
Korean horror flicks are creepier than Hollywood horror movies. Credit goes to their storyline and eerie background score. Most of the famous Korean horror movies use a simple subject that are easy to recreate. The schoolgirl from the famous "Death Bell" movie, or the possessed doll from "Doll Master" are all-time favourites among Koreans. Just dress up like an unkempt school girl and carry a ragged doll to add to the creepiness.
Funny costumes
If you are not too much into eerie costumes, then dressing up like your favourite k-pop artist or even being an emoji like the poop or rilakuma characters count too. Character costumes are widely available online.
Celebrating Halloween the Korean way is more like a large scale costume party minus the real frights. Clearly, there is a lot of interest, among Koreans who are embracing the spooky theme with a possibility of the holiday fun becoming main stream in the near future.