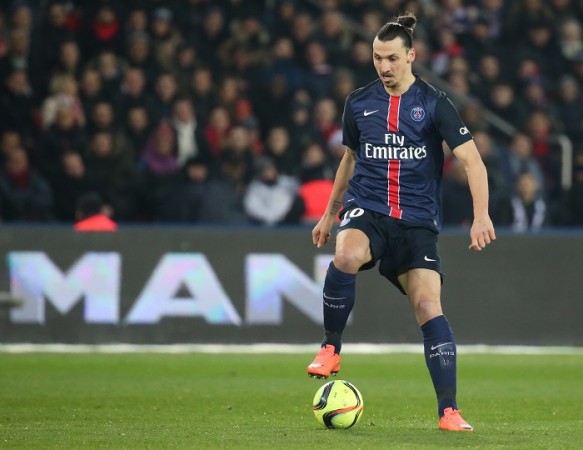 As Manchester United continue to be linked with a move for Zlatan Ibrahimovic, it looks like the PSG striker could be on his way to the English Premier League in the summer. According to the Sweden international himself, there is plenty of interest from England for his services.
Ibrahimovic will leave PSG at the end of this season when his contract expires. While the former Barcelona forward will turn 35 later this year, he remains very much a wanted man, with Premier League clubs – apart from Manchester United, Arsenal and Chelsea have also been tipped to make moves -- in particular, keen to acquire his services.
"There's interest (from the Premier League), I can confirm that," Ibrahimovic, who has never played in the Premier League in his career, was quoted as saying by The Guardian. "We'll have to wait and see what happens. I'll look at every offer on the table and then make a decision. It's like a marriage. Both parties need to want it just as much.
"I think the Premier League is the league that attracts the most interest in the world. No doubt about it. I've played in fantastic countries and leagues. Every league has its pros and cons and that goes for the Premier League as well."
With his PSG deal coming to an end this season, Ibrahimovic can technically hold talks with other clubs and come to a pre-contract agreement, but the always-entertaining striker insisted he hasn't made a decision yet on his future. Ibrahimovic revealed the decision on which club he will play for next season will be made only in the summer.
"I'm not having any discussions regarding this at the moment," the 34-year-old added. "I will not lie to you, Mino (Raiola), my agent, handles everything regarding my future right now. I am playing football and he is focusing on that.
"Then, in the summer, we will look at all the options. I have a contract until the end of June, when contracts normally run out. And I believe I have a lot of options. A lot of big things will happen this summer. We have to see when all the cards are on the table. I think there will be a lot of opportunities. If you just have a little patience, there will be a lot to write about. The future looks very bright."