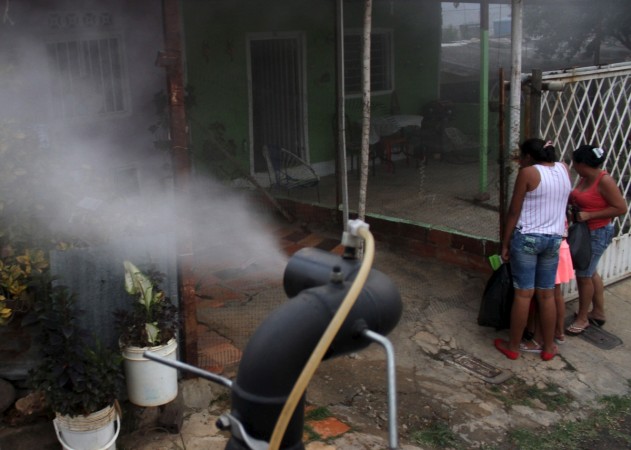 More than 20,000 people have reportedly tested positive for the mosquito-borne Zika virus in the South American country of Colombia. Of the total virus-infected citizens, at least 2,116 are pregnant women, Colombia's National Health Institute said on Saturday.
The institute has found 20,297 cases in Colombia so far. However, no case of microcephaly has been reported as yet. There is no vaccine or cure for the neurogolgical disease, Reuters reported.
Half of over 20,000 cases were reported in Colombia's Caribbean region and 60% of the infected people are female. Of the total Zika virus-infected pregnant women in the country, 37.2% are resident of the Norte de Santander province, located along the country's eastern border, which it shares with Venezuela.
The government has asked the citizens to delay their pregnancy for about eight months to avoid cases of microcephaly. The authorities have also asked hospitals in lower-lying regions to be prepared as cases of Zika virus carried by the Aedes aegypti mosquito is likely to increase.
The officials suspect the numbers would go up to 70,000.
The numbers have raised concerns in the country as the virus is suspected to be causing a birth defect called microcephaly, a neurological condition that results in abnormal development of the foetus' brain.
Thousands of babies were reportedly born with small heads and underdeveloped brain in the Americas, particularly in Brazil, which is the worst affected by the disease since the outbreak of Zika virus last year.
In Brazil, 1.5 million cases of Zika virus infection have been reported thus far. It has recorded at least 3,718 cases of microcephaly since last year, which is more than 22 times more than what it recorded a year before — 163 cases, Al Jazeera reported.
The World Health Organisation had earlier said the virus was spreading "explosively" in the Americas. It had warned that there could be a total of 4 million cases of Zika virus infection in the region.
Researchers have said they are developing vaccines for the Zika virus, but it might take till the end of the year to test on people, NBC News reported.