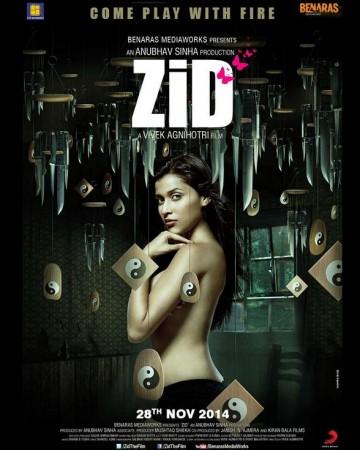 Priyanka Chopra's sister Mannara's debut film, "Zid", has received negative reviews upon its release. The film features newcomers Shraddha Das, Mannara and Karanvir Sharma.
The erotic storyline has failed to impress critics, who called it a funny film. Critics also said the film is only about skin show than focusing on any storyline.
Read the reviews below:
Nandhini of FilmiBeat said: "The story goes on with the same old concept of love, sex and betrayal, but the obsession music of this film is extraordinary. In the soulful voice of Arijit Singh 'Tu Zaroori', 'Saanso Ko' and 'Mareez-e-Ishq' have all come out as chartbusters.
"Cinematography is good. The evergreen, beautiful picturesque locations of Goa are never too boring anytime we see it on-screen. With songs, cinematography and the cast doing good work, only negative is the same old story about love and obsession which gives a headache."
Bollywood Hungama in its review said: "The film seems to be like a ship sailing in the middle of the sea without a captain. It's as directionless as that.
"On the whole, ZID is a very average thriller which has no stellar performances or a meaningful storyline."
Nishi Tiwari of Rediff.com said: "The only thing Zid has going for it is the atmospheric chills it offers by way of perennially grey skies, dense foliage around the bungalow and beyond, and the sense of distant melancholy the camera lends to the scenes.
"But I guess that alone doesn't cut it in the erotic thriller genre now, does it?"
Daily Bhaskar in its review said: "Manarra Chopra needs to quickly learn from her sister Piggy Chops if she wants to play a long inning in Bollywood. Zid won't help her much though.
"Don't waste your hard earned money on this unintentionally funny film. Watch Ungli instead."
Mohar Basu of Koimoi.com said: "Zid is a poorly acted, shabbily made, a pretty bad film that you won't believe has the touch of Vivek Agnihotri whose Buddha In A Traffic Jam wowed you in MAMI this year. What talented people do to become commercially viable! The film calls itself a thriller and if you have watched atleast a dozen of decent thrillers, you know where it is headed. Karanvir is watchable but Manara with her shrill voice and synthetic acting isn't good enough as the female lead on whose shoulders the narrative rests. I blame it on her inexperience because her DNA proves otherwise. Half way through Zid, you'll be frustrated, tired out, awaiting the glorious moment when the excruciating pain of watching Zid will finally be over and done with. Yes, I hated it that bad!"