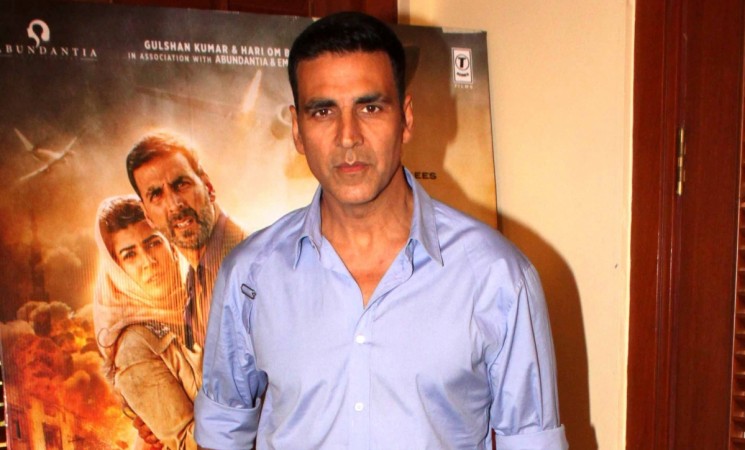 After writing an open letter praising stuntmen, Akshay Kumar will now honour and felicitate them at Zee Cine Awards, which will premier Saturday night on Zee Cinema at 7 p.m. IST.
In a first of its kind, Akshay will honour stuntmen of India, who risk their lives doing action scenes in films. The "Airlift" actor felicitated the first stuntman Raju, who lost his life while performing an action sequence on the sets of Akshay's film "Jaanwaar." The actor gave a cheque of Rs 11 lakh to Raju's family. Raju's wife, his two kids and brother Mehboob were present at the award show to collect the cheque.
Not only this, Zee Cine Awards has instituted a special award "The Stunt Person of the Year" starting this year in honour of all the stuntmen. Amit Grover was announced as the winner of the "The Stunt Person of the Year" award. Amit won the award for his bike stunt in the film "Shamitabh" starring Amitabh Bachchan and Dhanush.
Read Akshay's open letter to the stuntmen and women below:
To all the Stuntmen and Women out there, I just heard another great international Stuntman who has actually worked in my own Industry, and was going to come & train with me at my Parkour Gym has sadly passed away. I not only believe you all should be winning #Oscars & #FilmFares for your incredible work, in my eyes you should always be acknowledged globally for saving our lives & our films credibility with your expertise. It Pains me, coz I know the one expert that an Actor/Actress can't live without during their shoot is their #StuntBuddy We would be mourning so many Actors/Actresses if it wasn't for your unbelievable hard work & amazing talent that makes our movies look so good & help us earn so much, while keeping us safe from harm. Instead the Stunt community is quietly mourning the ones they've lost be it by accident, injury or fatality on the sets of #AwardWinningFilms over the years. I know winning an award still isn't enough for what you all painfully go through for these million dollar projects, but it would be a little start, yet sadly our fraternities are barely even honouring you with that. I just want you to know coming from a Stunt/Actor like myself, I Admire, Respect, Honour & am Eternally Grateful for everything you all do, my children still have their Father in one piece because there is always someone prepared to take the fall that I may not be able to take one day. To all the #StuntmenAndWomen I have ever worked alongside around the World, you are in my & my family's prayers. You deserve so much more than a wage packet, & I hope I live long enough to see a change. I know in my 25 year long career nothing much has changed. But it will, and I will try & make sure of that... Till then Thank You & Take Great Care, Good Luck with the #FightForYourRights... RIP to all those that have #LostTheirLifeForFilm

Love & Prayers AK the Actor/AK the stuntman...

#ActionFilms #RespectForTheActionWorld #HonourStuntmenAndWomen #OscarForBestAction