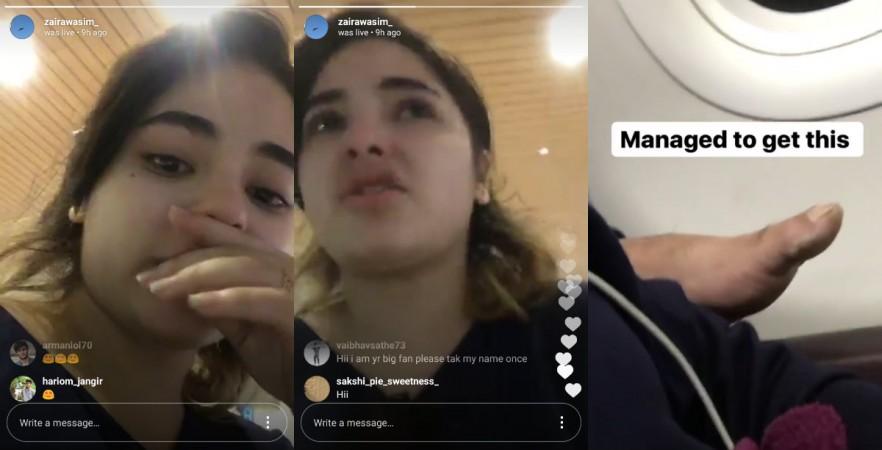 The incident of Dangal actress Zaira Wasim allegedly being molested on a Vistara flight evoked a massive reaction from all corners. The teenager's Instagram video, narrating her horrifying ordeal, has left most people shocked and angry.
Zaira has alleged that a middle-aged man sitting behind her touched her inappropriately on her back and neck with his feet. The man allegedly rubbed his feet up and down on her back.
Many praised Zaira's action, which grabbed Mumbai Police's attention and they took the alleged molester into custody on Sunday morning. But the wife of the accused seemed to be furious and called it a publicity stunt of Zaira.
Divya Sachdeva, the wife of the accused Vikas Sachdeva, spoke to SpotboyE. She said:
"This girl has been influenced by fame and wrongly accused my husband Vikas.

My husband was coming home from Delhi. His mamaji had passed away and he was not in the right frame of mind. He was feeling very low and asked for a blanket. He wanted to sleep.

I am shocked at Zaira's allegation. The police have taken my husband into custody. They came home this morning.

Why did Zaira not raise an alarm then and there? Why did Zaira tweet 2 hours later? Zaira had her mother for company. Despite that, the two ladies chose not to make any noise, why?

My father is an ex-Army officer and my father-in-law is an ex-Income Tax officer. We know how important it is to respect a lady, our family upholds very high values

My husband is a family man. We have a 9-year-old child Vikas can never misbehave with any lady in any manner."
The mystery has not been solved yet. While some sections of social media believe Zaira won't take such a big step just for publicity, it is also a fact that the celebrities tend to do things which will bring them in news again.
Share your opinion on this issue in the comments section.