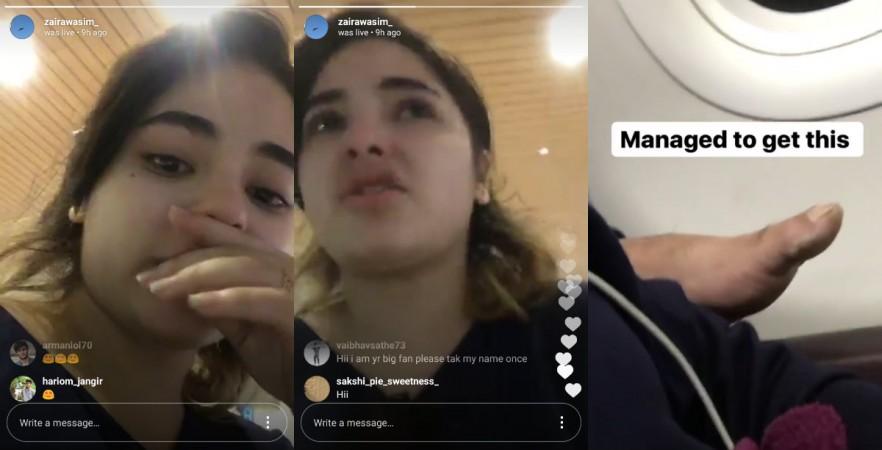 Dangal actress has been allegedly molested on board a Vistara flight from New Delhi to Mumbai on the night of Saturday, December 9. The 17-year-old took to Instagram to share the incident.
Revealing details of the encounter, the actress said a man seated behind her was rubbing his foot against her back and neck while she was half asleep. Walking out of the airport, the emotional actress narrated the incident online.
"So, I just landed and you know the whole irony of this is that the guy... this is not done at all. This is not the way, this is not a girl should be made to feel because this is terriblae. Is this how they are doing to take care of girls? No one will help us if we don't decide to help ourselves. This is the worst thing," her voice trembling as she spoke in an Instagram live video.
While on board, Wasim took a picture of the man's foot and shared it on her story, but said she couldn't get a clearer shot because of the dim lights.
"Managed to get this (shot of the molester's foot). The lights were dimmed so it was even worse. It continued for another 5-10 minutes and then I was sure of it. He kept nudging my shoulder and continued to move his foot up and down my back and neck, [sic]" she posted.
"I tried to record it on my phone to understand it better. But because the cabin lights were dimmed, I failed to get it. I ignored it the first time, blamed the turbulence for it," she explained.
"Until I woke up to this pleasant sight of his beautiful foot rubbing my back and neck... Guess he couldn't sit like a civilized human being and placed his foot on my arm rest while he's fully 'pheloaed' his body on his seat [sic]" she added.
Zaira's manager Tuhin Mishra told CNN-News18 that the actress approached the crew but they did not react. "This is shocking. Zaira approached cabin crew but they didn't react. We have written to Vistara. We will file a police complaint. She is in a state of shock," Mishra said.
Vistara has been notified of the incident, and it has apparently assured that a detailed investigation is being carried out.
"We @airvistara have seen the reports regarding @ZairaWasimmm experience with another customer on board last night. We are carrying out detailed investigation and will support Zaira in every way required. We have zero tolerance for such behaviour, [sic]" the official Twitter handle posted.
Angry fans took to Twitter to threaten boycott of the airline if action was not taken. "Act fast and act soon or whole india will boycott your airlines, [sic]" said one.
"Do it immediately and arrest the guy.Otherwise we passengers will unite and boycot your airline by online campaign, [sic]" said another.
"Now you are investigating but why flight staf did not stop why they did not help? [sic]" a Twitter user asked.