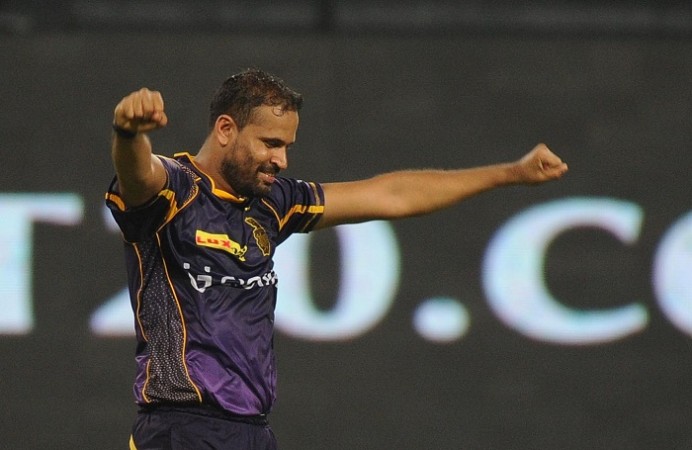 Kolkata Knight Riders (KKR) all-rounder Yusuf Pathan will now be playing in the Dhaka Premier League (DPL). After a brilliant outing in the recently concluded IPL 2016, Yusuf will now be seen playing for Abahani Limited in the DPL.
Although KKR did not make it to the finals of IPL 2016, Yusuf was one of the best players in their squad in this recently-concluded season. KKR's middle-order did not fire much in the tournament but Yusuf did.
Yusuf took the responsibilities on his shoulders and won KKR a number of matches in IPL 2016. He was also instrumental in sending KKR into the IPL 2016 playoffs.
Yusuf Pathan scored 361 runs in 15 matches at an astounding average of 72.20, which was only second best to Virat Kohli's 81.08 in IPL 2016. Pathan's strike-rate was also commendable (145.56).
Despite his form in IPL 2016, the BCCI selectors chose to ignore Yusuf Pathan for the upcoming India tour. We have seen veterans like Ashish Nehra and Yuvraj Singh make their comebacks in the shortest format of the game. But it seems that there is no room for the 33-year-old all-rounder in the Indian team.
Coming back to the DPL, BCCI have recently allowed its players to participate in List A matches outside India. This has allowed a number of domestic players to take part in such tournaments outside India.
Abahani Limited have already signed Manoj Tiwary, who also used to play for KKR once. And now they have signed Yusuf Pathan. But according to the rules of the DPL, only one foreign player can be a part of the playing XI.
Other Indian players who are playing in the DPL are Jatin Saxena, Jalaj Saxena, Milind Kumar and Sachin Rana.