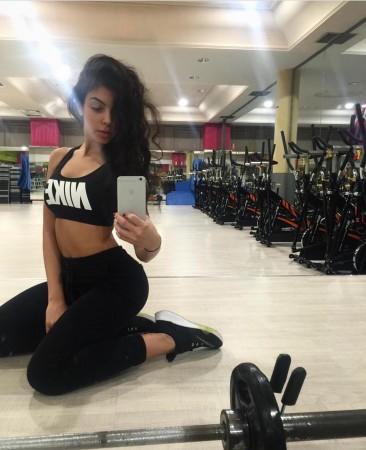 If you have a fit footballer like Cristiano Ronaldo as your partner, well, you can bid those excess body flab goodbye, even after you gave birth to someone only a couple of weeks back. Georgina Rodriguez is one lucky woman to have those fitness and nutrition tips from the Real Madrid ace right at her place!
Just a few weeks after the birth of their child Alana Martina, Georgina has been clicked for the first time outside her home in Madrid, Spain. The 22-year-old was possibly heading out for a session of morning workout when the paparazzi got lucky.
Georgina, in hot yoga pants, looked as gorgeous as ever. What surprised one and all, however, was her absolutely flat and washboard belly.
Also, her Louis Vuitton bag remained by her side.
Cristiano's girlfriend Georgina, whose current body shape doesn't make anyone feel that she gave birth to a child just a few weeks back, posted a video recently of her workout. She has been seen performing a circuit with a medicine ball in the squat position.
She earlier made the internet users saying "awww" after posting an adorable photo of hers along with little Alana Martina. Georgina is seen sitting on a sofa with Alana resting on her legs. The garlands surrounding them, make the photo just about a perfect one to treasure for a lifetime.
Real Madrid star Cristiano is now the father of as many as four children. He already revealed to the world earlier this year the photo of his twin children Eva and Mateo, who were also born from an unidentified surrogate mother, just like Cristianinho.