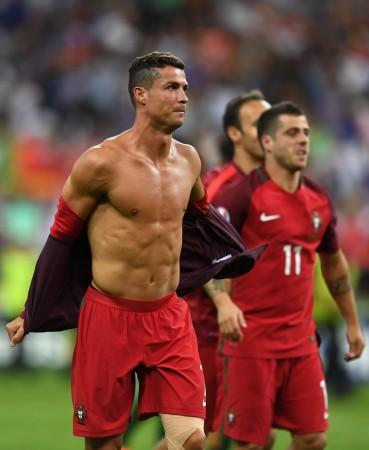 Real Madrid ace footie Cristiano Ronaldo became dad for the fourth time on Sunday as his girlfriend gave birth to a sweet little girl Alana Martina. The Portuguese legend wasted no time in sharing an awwdorable photo from the hospital bed!
While the occasion calls for the celebration of its highest order, Cristiano could be in for a major headache soon. A certain Portuguese model, Natacha Rodrigues, has accused the footballer of cheating on Georgina.
We don't really know the truth of it but Natacha coming up with these allegations, at this particular juncture, looks a bit fishy and well, awkward!
A hot footballer and a hot model cozies up...
Natacha, a gorgeous 21-year-old TV personality in Portugal, revealed that she slept with Cristiano in March this year, while he was on vacation in his hometown. Cristiano was already going steady with Georgina then.
"I knew he had a girlfriend but we became friends, there was trust between us, a bond," Natacha revealed to the Sun. "He was a lovely person and after messaging for so long it was amazing to be with him.
"Our night together was special.
"But afterwards I told him I was going on a Portuguese reality show and he told me not to do it. By the time I came out he'd blocked me. Now I think he just used me for sex. I don't have regrets because being with him was like a dream come true but I feel betrayed."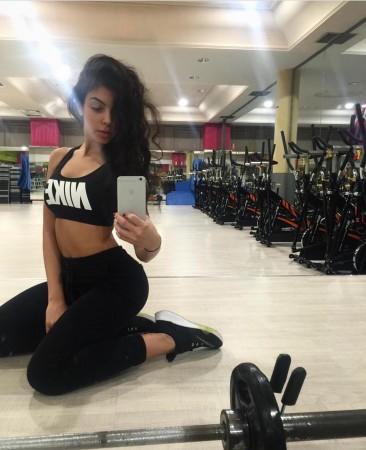 THAT night in March 2017...
Natacha revealed moments from the night when she was invited to Cristiano's appartment in Portugal. The model reveals that a picture of her bum lured Cristiano to reveal the four-digit security code of his flat.
"Don't be embarrassed. I love kissing bottoms," Cristiano messaged Natacha that night in March.
Cristiano's bum fetish was earlier disclosed by Miss BumBum 2016 Erika Canela.
I couldn't believe I was walking into Cristiano Ronaldo's apartment. My heart was racing but he was very nice and sweet and told me to act as if I was in my home," recalled Natacha.

"I took my shoes off and poured myself a juice from the fridge before sitting down next to him. We spoke about his apartment and where I was originally from.

"I then took the lead, stood up, took down my trousers and bent over to show him my bottom. He smacked it and said he loved it.

"He was very affectionate and patient. I'd only seen his body on TV but close up it didn't disappoint — he had muscular legs and was shaven everywhere. He had a wardrobe which was brimming with clothes and asked me if I wanted anything.

"I ended up taking a baseball cap because I said I loved his hats."
The aftermath and blocking on WhatsApp...
Natacha added that following the steamy love making action, Cristiano paid her 300 euros for the taxi to return home. "The next day I messaged him saying I'd enjoyed being with him and promising to stay in touch.
"He replied with the words: 'I also enjoyed it. We will see each other again one day. Top secret please. Kisses.'
"Two months later I sent him a WhatsApp saying I needed to talk but he'd blocked me. I'd gone from feeling really special to just another girl."
"I hope he is being faithful to Georgina now," she added.
Natacha revealed that Cristiano contacted her for the first time after he broke up with Russian model Irina Shayk in 2015. Irina is presently in a relationship with Bradley Cooper, while Cristiano is possibly looking at marrying Georgina Rodriguez.