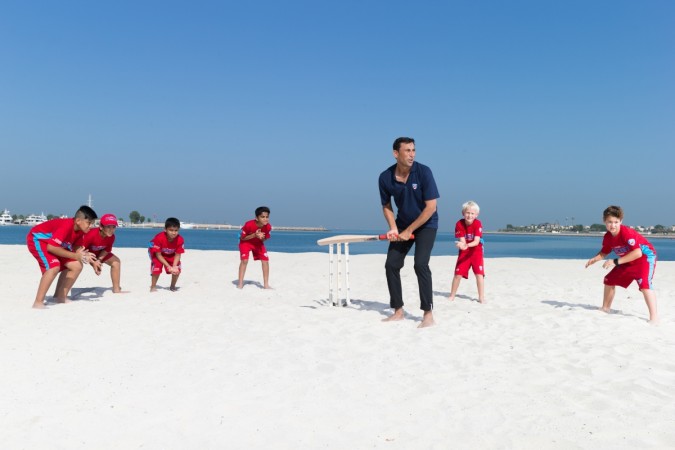 Pakistan's cricketing icon Younis Khan has returned to Abu Dhabi ahead of the T20I match between his home side and Sri Lanka, as Khan opted to explore the capital this time around, rather than the crease.
Khan who recently retired from professional cricket, made his way to the Emirates Palace hotel along the Abu Dhabi Corniche, where he met with Abu Dhabi Cricket's Zayed Cricket Academy members, taking them through their paces on the beach and lawns of the hotel.
Known for his blistering batting, Khan decided to enjoy the heat of the Arabian sun instead, as he met with both Sri Lankan and Pakistani staff in the pristine grounds of Emirates Palace. Before heading to the stadium ahead of the T20I match between his Pakistan and Sri Lanka, Khan said: "Abu Dhabi never ceases to amaze me".
He aded: "Emirates Palace is such a stunning venue and it was great to experience the local culture, from enjoying Arabic coffee in the Bedouin tent to taking a camel ride along the beach: a truly unique experience."
The skilled batsman will also be giving the lucky winner of Abu Dhabi Cricket's social media competition a batting masterclass on the pitch during the T20I break.
Khan added: "I've had the privilege of playing at Zayed Cricket Stadium several times before. The amazing support and dedication from Abu Dhabi Sports Council has ensured that Abu Dhabi Cricket is offering a world-class multi-sport venue, and it's clear the capital will continue to grow its international sporting hub image thanks to the vision of the Sports Council leaders."
Where to buy tickets
Tickets are selling fast, but you can still buy online at www.q-tickets.com/uae/ or from the Ticket Booth at Zayed Cricket Stadium itself. There are also stands across Abu Dhabi, including: Al Ghurair Exchange, Leopards Courier, Al Ibrahimi Restaurant, Pak Nemat Kadah Restaurant, Safeer Mall and K.M Hypermarket, Mussafah