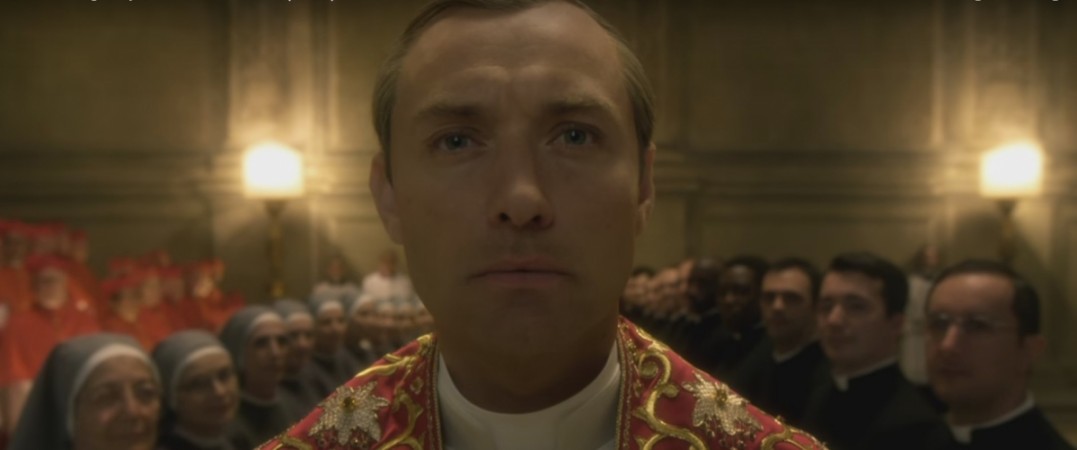 HBO has released a new trailer of Jude Law, starring, The Young Pope where he appears as a very ruthless, power-hungry pontiff in the new trailer of The Young Pope.
HBO's series follows the journey of a modern fictional pontiff's character (who happens to be the first American Pope) who is very much irrational and also has hunger for power on the other hand.
The series seems to be extremely intrigued, full of gossip and scandals which can easily give a tough competition to HBO's hit drama series Game of Thrones.
In the series, Diane Keaton who played the character of Sister Mary (nun) is a bit mischievous. Her character seems to be little sceptical as it raises lot of questions regarding her actions and real power.
In the series, Jude Law's Pope Pius XIII is portrayed as a chain smoker who "has no sin to confess." The new trailer shows that Pius is looking for the ultimate power grab. "Everyone is afraid of you," Keaton's Sister Mary says to him. "That's not exactly true," he replies. "But it will be."
Academy Award winner director Paolo Sorrentino created drama series will be adding a new layer of controversy while portraying the Pope's life. The Young Pope is a limited series that compiles ten episodes in total.
Here the official synopsis reads:
THE YOUNG POPE tells the controversial story of the beginning of PIUS XIII's Pontificate. Born Lenny Belardo, he is a complex and conflicted character, so conservative in his choices as to border on obscurantism, yet full of compassion towards the weak and poor. He is a man of great power who is stubbornly resistant to the Vatican courtiers, unconcerned with the implications to his authority. During the series, Belardo will face losing those closest to him and the constant fear of being abandoned, even by his God. He is, however, not afraid of undertaking the millennial mission of defending that same God and the world representing Him.
The cast also includes Silvio Orlando, Scott Shepherd, Cécile de France, Javier Cámara, Ludivine Sagnier, Toni Bertorelli and James Cromwell.
The Young Pope premieres on HBO on Sunday, January 15, 2017 at 9 p.m.