There is no doubt that the romance between Jon and Dany is getting cosier. And the GoT fans can't wait to see them going intimate on screen.
Also read: Game of Thrones season 7 finale photos: Where is Daenerys?
If you have been following the current season of Game of Thrones, then you must know what's brewing between these two characters. While Jon is not aware of his real parentage, season 6 finale of Game of Thrones confirmed that Jon Snow's mother is Lyanna Stark. It is not still shown on the show that he is the son of Daenerys' brother Rhaegar Targaryen, but HBO once confirmed that he is the son of Rhaegar and Lyanna. That means Jon Snow is the rightful heir to the Iron Throne.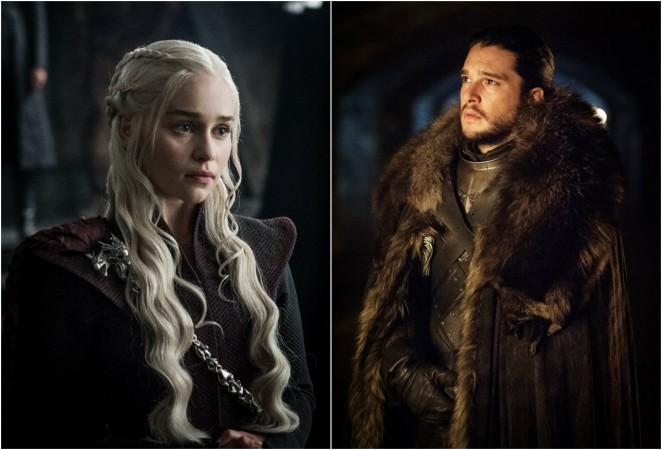 With all these crazy fan theories, things are heating up between Daenerys Stormborn and King in the North. And, five years ago, Rolling Stone held an iconic photoshoot to capture the chemistry between Clarke and Harrington. And, those are the best pictures at this moment you will see on the internet.
Peggy Sirota, the photographer of the iconic photoshoot, shared the picture on Instagram writing, "This moment was unforgettable. It was a small crew on that day, just a few of us out in the field. The chemistry between these four was huge, as you can see... I asked them to kiss, I suppose love was in the air, & I was just lucky enough to be there. #kitharington #emiliaclarke #gameofthrones #rollingstone #hbo ❤️PS."
But who had thought that the picture, five years later, will go viral for all right reasons! The photo shoot happened in 2012 and Game of Thrones started in 2011 itself. No one could have thought that the then secondary characters Dany and Jon would become such a pivotal part of the HBO series.
Take a look at the pictures.
Game of Thrones season 7 finale will be aired on August 27 on HBO and HBO Canada at 9 pm ET. Indian viewers can watch it on Hotstar on Monday (August 28) at 7.30 am IST and Tuesday (August 29) on Star World. Apart from that, one can watch it on HBO Now, Hulu and Sling TV live online.