Apple, which is currently facing a lot of criticism after it admitted to having slowed down the older iPhones to get the most out of their ageing batteries, had apologised to iPhone users in a letter posted on its official site on December 28. The company had also announced that it would provide battery replacements for the iPhone 6 and above at discounted rates starting January 2018. Now, it seems like Apple has re-scheduled the dates and preponed the battery replacement rate revisions.
A report from The Verge says that discounts for replacing the batteries of old iPhones are being given by Apple at an earlier date. The report states that the iPhone maker has updated its apology post and made the discounts available immediately.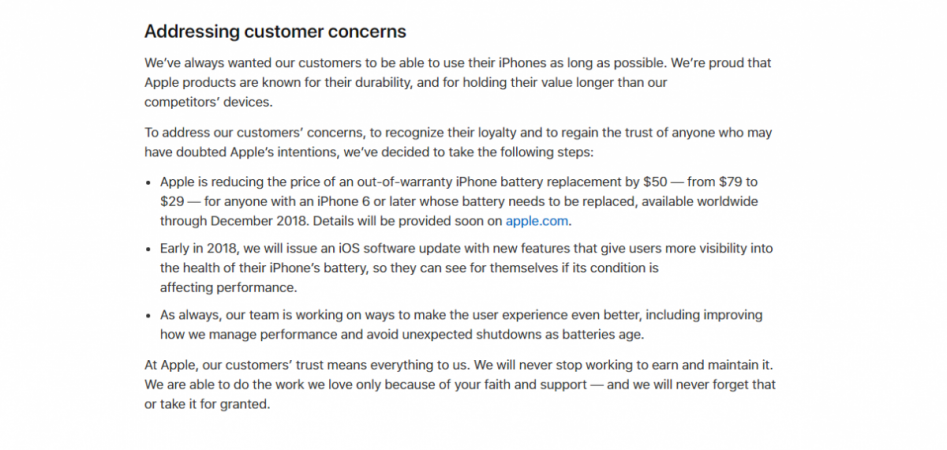 Previously, the post mentioned that the discounted batteries would be available globally in late January. The updated post now omits the January release date and simply says the discount offer last until December 2018.
Apple's updated post states that from now, users owning an iPhone 6 and higher models can get their batteries replaced for $29 (approx. Rs 1850) with immediate effect. A typical iPhone battery replacement used to cost $79 (approx Rs 5050) earlier.
In India, though, the cost to get an iPhone 6 or iPhone 6s battery replaced from authorised Apple service centres will now be Rs 2,000 without taxes. Earlier it used to cost around Rs 6,000, excluding taxes.
Source: The Verge