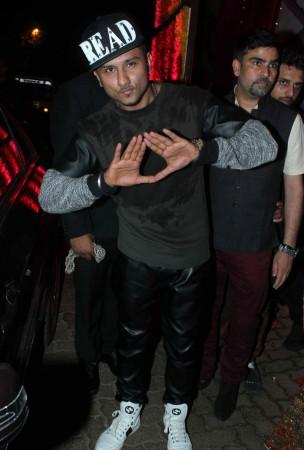 Yo Yo Honey Singh has been off the radar lately, and he didn't really bounce back well with "Birthday Bash" and "One Bottle Down" after the hiatus he took last year. The rapper was said to have been advised bed rest and take off from incessant work.
However, Singh has posted a series of photos and a video on Instagram of him sweating it out at the gym. It's known that he is a fitness freak but this sudden interest in buffing up could be for an impending film project as well.
Since, there has been no official announcement made by Honey, it can be counted as the musician's way of ditching a sedentary life.
Interestingly, his film "Zorawar" is scheduled to release mid 2015 in which he plays a special agent in search of his long-lost father, whom he reportedly traces to Durban.
In other news, Singh apparently slipped into depression after Shah Rukh Khan allegedly slapped him. He was spotted checking in to a Chandigarh-based rehab centre a few months ago and even bailed out of his own reality show "India's Raw Star".
Responding to slapgate, wife Shalini said SRK hitting Singh was just another rumour as they share a healthy relationship adding that the "Happy New Year" star has been asking the singer to take it easy.
"So, Shah Rukh bhai hitting him is just a big rumour, we have no clue why and where it came from. He even got some calls asking him this and he made it clear that nothing like that happened. But even after the clarification those stories appeared, which is strange!," Hindustan Times quoted her as saying.
Singh's new number "Aao Raja" from "Gabbar Is Back" is foot-tapping and features the sultry Chitrangada Singh.
Check out Singh's workout photos and video below: