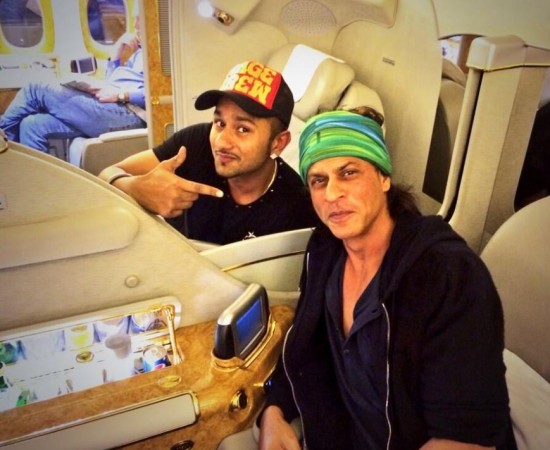 Rapper Yo Yo Honey Singh performed with Shah Rukh Khan at three back to back concerts of "SLAM! The Tour", but unfortunately the singer has to leave the show.
Apparently, Singh slipped and injured himself due to which he won't be able to perform at the "SLAM! The Tour".
Shah Rukh along with his "Happy New Year" team, including director Farah Khan, Abhishek Bachchan, Deepika Padukone, Boman Irani, Sonu Sood and Vivaan Shah are on a world tour to promote his film.
Singh, singer Kanika Kapoor, Madhuri Dixit Nene and Malaika Arora Khan also joined the tour with SRK.
The team performed for three back to back days starting from 19 September in Houston, followed by New Jersey and Washington DC.
Singh won't be able to attend the concerts in Chicago, Vancouver and San Jose due to his injury.
"We regret to inform you that Honey Singh unfortunately will not be able to perform for the Slam! shows in Chicago, Vancouver and San Jose dated Sep 26, Sep 27 and Sep 28 respectively since he slipped and has injured himself. Doctors have advised him complete rest," his spokesperson said in a statement.
Earlier this week, there were reports that despite ill health, Singh went on for the month-long concert-tours in the US and Canada.
"For the past two weeks, his blood pressure has been fluctuating erratically and he was advised strict medication and bed rest. Dropping out of the tours at the point would have meant huge losses for the organisers. And so, he accompanied SRK on the Slam tour," a close friend of the rapper told DNA.
However, this time he had to cancel the tour in midway due to the injury and this has disappointed his fans who were waiting for his live performance.
His fans expressed their disappointment and also wished him a speedy recovery.