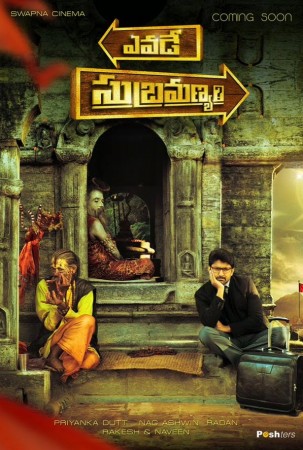 Debutante director Nag Ashwin's 'Yevade Subramanyam' featuring Nani and Malavika Nair in lead roles has garnered mixed reviews from film critics, who praise Nag for his brave attempt.
Subbu aka Subramanyam is an IIM-A graduate and an investment banker. He is the general manager of a big company and is engaged to the company owner's daughter. An unexpected incident involving his childhood friend causes a big setback to his professional and personal life. What happens next will form the crux of the story.
Critics opine that all the actors have done justice to their roles and that Nani's performance stands out. The movie has decent technical elements. The critics have also praised his message-oriented script, but what disappointed them the most is the narration of the film especially in the second half, which is very slow and dragging.
We bring you some critics' verdict and ratings for the movie. Continue to read Yevade Subramanyam movie review roundup.
The Times of India Ratings: 3.5
Kudos to Nag Ashwin and his team for making a film full of heart and soul. For all its philosophical undertones, it's a remarkably simple film which hides its avalanche of emotions quite well. It's a matter of how soon you see what lies beneath. And the moment you realise what the film is all about, it'll make you restless almost to an overwhelming degree. For once, put aside everything you expect from a Telugu film, and go on a ride which traverses the Himalayas and the deepest realms of your sub-consciousness. Yevade Subramanyam isn't a film where you'll laugh out loud despite its subtle humour. It's a memory that you must savour until the very end. Like life itself.
A Gamyam-like theme that is packed with a few good moments and that's all. Clichéd narration is its biggest minus, besides total lack of any surprises in the second half.
Yevade Subramanyam is bound to do well in the A centres. Interesting story, well executed first half and Nani's performance are huge assets. On the flip side, a slow second half and lack of basic entertainment will not go well with the mass audience and limit the reach of this decent film to an extent.
The film's theme and execution may not connect with the majority of Telugu audiences who prefer to watch movies for the sake of entertainment. Keeping the box office prospects aside, Yevade Subramanyam is a fairly decent film that deserves to be watched on the screen for its sincerity.
Yevade Subrahmanyam works with those audiences which like serious cinema and those who can manage to sit through a very slow paced film. It is not for people who are looking for some quirky comedy.
Although the entire film is predictable, the climax deviates from the regular zone making the film two notches below what it might have been promising. The problem though is that the narrative throughout the film seems drab and flat, and thus the film fails to appeal to the audience towards the end.
Yevade Subramanyam is not for those who like their films laced with songs and dance. It is for people looking for alternate cinema that still fits into the mainstream scheme of things.