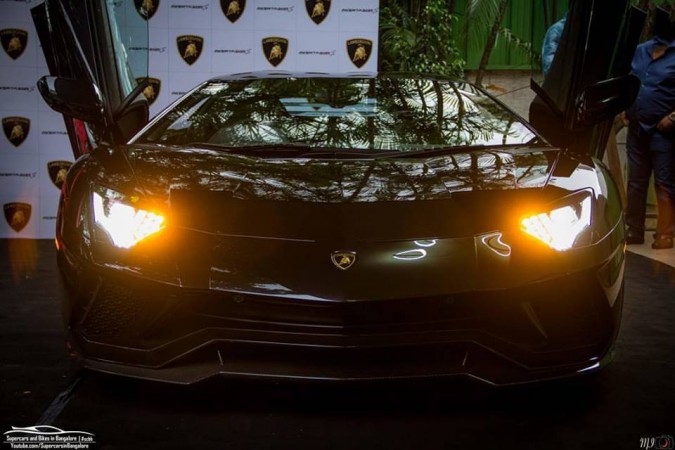 It has been three months since Italian sports carmaker Automobili Lamborghini launched the face-lifted 'Raging Bull' in India and like many previous instances during the sale of supercars, it is a Bengaluru-based person who takes home the first car.
This also marks the commencement of the delivery of the Aventador S in the country after its launch in March 2017. The supercar comes with a price tag of Rs 5.01 crore. After its successful global premiere in December 2016, the company has been fast in bringing the Aventador S to India.
Also read: Mercedes-AMG GLC 43 India launch in July
The S-suffixed version of the Aventador gets the naturally aspirated V12 6.5-litre motor at its heart, which is tuned to churn out 740bhp, up from the 691bhp of the regular Aventador. Lamborghini also claims that its engine's maximum revs have been increased to 8,500rpm from 8,350rpm. While the torque remains the same at 690Nm, the Aventador S can sprint from 0-100kmph in just 2.9 seconds before hitting a top speed of 350 kmph. The mill sends power to wheels via a seven-speed ISR gearbox.
Lamborghini Aventador S also features the 'Ego' mode to the existing three driving modes – Strada, Sport and Corsa, which allows the driver to customise the car's drivetrain and suspension settings according to the driver's choice. It is also the first production to come with a four-wheel steering to enhance lateral control during low and medium speeds.
Bengaluru, the home for supercars
Lamborghini Aventador S is not the first supercar to find home in Bengaluru, the Silicon Valley of India. The city already hosts an array of glittering supercars.
When the limited edition Porsche 911 R arrived in the country, it was Bengaluru-based Bhoopesh Reddy, a renowned car collector in the city, who drove home one of the 991 units produced globally and delivered to India. Italian luxury carmaker Maserati's first ever SUV Levante also found its first buyer in the south Indian city. Soon after the McLaren 720S, the latest supercar of the company is also expected to join the list. With the latest entrant, the city is fast getting used to the throaty exhaust notes from Ferraris and Lamborghinis.
Source: Supercars and Bikes in Bangalore
Watch India's first Lamborghini Aventador S being delivered in Bengaluru