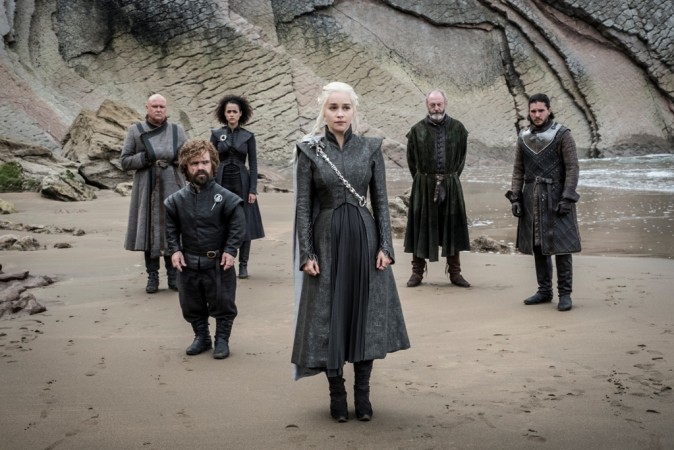 Game of Thrones season 8 is all set to premiere in April 2018. The show will bring some epic battle scenes, some gruesome deaths, and it will finally answer how Tyrion will carry on his life after knowing that Daenerys and Jon Snow are in some sort of a relationship.
Game of Thrones season 7 ended with the Night King breaking down The Wall by melting it with the dragon's fire. Amid all that horrifying sequence, it was also shown how Daenerys and Jon Snow finally had sex.
Their romance was long overdue but fans were left in shock when they find out the real relation between Daenerys and Jon. However, apart from this, the most important thing of that episode was the look on Tyrion Lannister's face when he heard his Queen and Jon having sex.
As per the official Game of Thrones script, the seventh season somehow revealed Tyrion's true feelings for Daenerys. The Writers Guild of America West's library has dozens of scripts from HBO's Game of Thrones. The recently released script details show that Tyrion is actually in love with her since Game of Thrones season 6.
"He studies her face. [. . .] Dany is staring into the distance so Tyrion is able to watch her from up close. Goddamn but she is beautiful. [. . .] He watches her for a beat too long and turns away. Lost in her own thoughts, she doesn't notice that he's flustered," the script reads.
Apart from this, in season 7, when Jamie Lannister goes to fight Daenerys, the script details, "the brother he loves races towards his probably death at the hands of the queen Tyrion also loves."
Apparently, this is not the first time when talks of Tyrion Lannister's love for Daenerys Targaryen have been revealed. Earlier this year, Peter Dinklage told Entertainment Weekly that Daenerys (Emilia Clarke) is awe-inspiring for his character in the show.
"He's questioning that because he doesn't have a good track record for falling in love. There's jealousy wrapped up in there. And he loves Jon Snow, too. They're the two people he has the most in common with, in a way — they're both outsiders in their own families who have refused to follow the path their family has taken, and hopefully for the better. He's wondering how smart of a move [Jon and Dany getting romantically involved is], because passion and politics don't mix well," Peter Dinklage added.