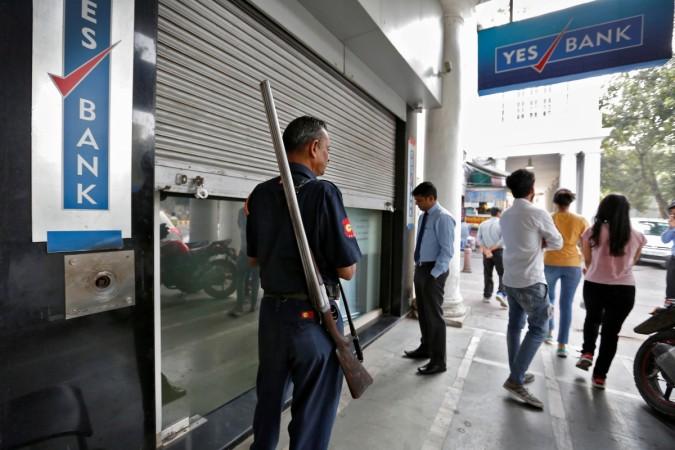 Private lender Yes Bank tanked as much as 10 percent in early Friday's trade, despite the bank announcing a 25 percent jump in its net profit on a year-on-year basis in the second quarter of the ongoing fiscal.
Shares of Yes Bank slumped 9.8 percent to Rs 299.0 on the Bombay Stock Exchange (BSE). Currently, the stock is trading at Rs 304.0 a piece, down 8.2 percent.
Gross non-performing assets (NPAs), which are percentage of gross advances, doubled from 0.97 percent in the June quarter to 1.82 percent in the September quarter of the current financial year. This might have hurt investor sentiment.
However, the bank reported good earning numbers, with net profit for the September-ended quarter increasing to Rs 1,002 crore from Rs 802 crore in the year-ago quarter.
But the rise in bad loans took away the sheen of the good result. Because of the spike in NPAs the bank had to provision Rs 447 crore, which is over 175 percent higher than the last year's provisions of Rs 162 crore.
During the quarter, the bank also reported a divergence in excess of Rs 6,300 crore.
Brokerages turned cautious with the slump in the lender's share price, but most of them retained "Neutral" to "Buy" recommendations.
Here is what the brokerages recommend:
Credit Suisse
Credit Suisse maintains a neutral rating on Yes Bank following the September quarter results, and slashed its 12-month target price to Rs 321 from Rs 331 earlier.
The loan growth remains strong but asset quality worsened sharply, said the Credit Suisse note. Given large divergence in NPA, trading multiples are likely to remain capped, it said.
Macquarie
Macquarie downgraded Yes Bank to "neutral" from "outperform", but maintained its target price to Rs 362. Growing trust deficit will be a big overhang on the stock which resulted in the downgrade.
UBS
UBS maintained its "sell" rating on Yes Bank with a target price of Rs160.
"The non-performing loan risks are not fully reflected and continue to expect credit cost of 165 basis points and 145 basis points during the current financial year and next financial year respectively, [sic]" they said.
BNP Paribas
BNP Paribas maintained a hold rating on Yes Bank and maintains a target price of Rs 285. The growth momentum is strong, and focus on retail continues.
The liability profile is changing, and the CASA ratio grows to 37 percent. The asset quality concerns limit upside in our view and we maintain hold rating on the stock with a target at Rs 285 per share.