Ajith's "Yennai Arindhaal", which was released on 5 February, has been appreciated by critics. This is probably the only movie that got an average of 3.25 ratings from the critics.
Below, we bring to you what the lead critics have said about "Yennai Arindhaal" directed by Gautham Menon.
Just in: 'Yennai Arindhaal' 7 Days (First Week) Box Office Collections
Nicy of IBTimes (Rating: 4/5): "Yennai Arindhaal" is a typical Gautham Menon movie with all its nuances. A well written script, highly-engaging dialogues and sequences, and some well-defined performances make the latest Ajith starrer a delight to watch.
Haricharan Pudipeddi of IANS (Published on Indian Express): "Yennai Arindhaal" is the evolved story of police officer Sathyadev, who strives hard to strike a balance as a family man as well. Everything about the film and its protagonist Sathyadev is evolved to the extent that he's ready to accept a woman with a child in his life.
Anupama Subramanian of Deccan Chronicle (Rating 3/5): Ajith takes the cake and biscuit for this film. He fits into the cop sleeves with verve and enthusiasm. He's provided with the romance, he has anger to take out on others, and there's the much needed solipsism to showcase his attitude of coolness and outrage.
Sify Review: (Rating: 3/5): "Yennai Arindhaal" is a typical Gautham Menon movie and one can call it as the director's cop trilogy. After Suriya (Khakha Khakha) and Kamal Haasan (Vettaiyaddu Vilayadu), this time Ajith wears the Khaki and it is yet another episode in a police officer's life.
Indiaglitz Review (Rating: 3.25/5): To start with "Yennai Arindhaal" heavily falls into the character of Satyadev, a character etched pretty well by GVM. Makes us wonder if anyone else apart from Ajith could have done a better job out of it. For the character requires a bold and daring voice, the very voice that would send shivers down a rogue, the character deserves a look that Ajith fits in simply deservingly.
Saraswathi of Rediff (Rating: 3/5): The backdrop is new, and the plot engaging but the characters, the situation, and even the dialogues are reminiscences of Gautham's previous cop films.
Karthik Keramalu of IBNLive (Rating: 4/5): "Yennai Arindhaal" is a step forward from Gautham Menon's previous decade's cop films "Kaakha Kaakha" and "Vettaiyaadu Vilaiyaadu", but first things first, Arun Vijay's performance in this particular film puts his entire filmography to shame. From his hairstyle to the very last scene, he is terrific.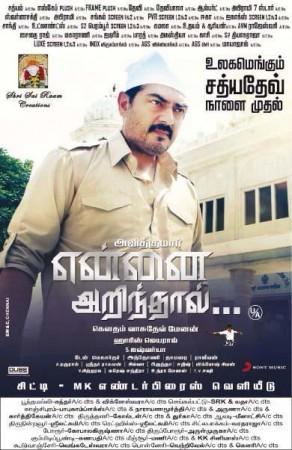 Suganth of Times of India: The film belongs to Ajith and the star is in such fine form here. Playing a character that gives him the chance to be someone his age, here, he turns on the charms when he is with the heroines and taps into the coolly aggressive and self-possessed persona that we saw in "Mankatha" and "Billa".
Udhav Naig of The Hindu: If Anbuchelvan (in "Kaakha Kaakha") was a shy cop, Raghavan ("Vettaiyadu Vilayadu") was a romantic. In "Yennai Arindhaal", Sathyadev is actually a family man who doesn't make police work his priority.
Sudhir Srinivasan of The Hindu: "Yennai Arindhaal", wherever I may deem its soul to be, is a cop film. The title credits that show stylised animations of objects like guns, handcuffs, explosives, and bullets make it quite obvious. Sathyadev is all force and flair. He is suave, he is comfortable conversing in English, and he is, sometimes problematically, trigger-happy.
Karthik Subramanian of The Hindu: "Yennai Arindhaal", which the director has said is the concluding part of his 'cop trilogy' after "Kaakha Kaakha" and "Vettayadu Vilayadu", is a tough act to follow given the success of those films. So the film ends up being highly predictable.