Ajith starrer "Yennai Arindhaal" has gotten a stupendous start at the box office in the first weekend and has grossed above ₹50 crore worldwide.
According to Andhra Box Office, "Yennai Arindhaal" has earned ₹53.65 crore in the four-day weekend. The Ajith's film, which was released on 5 February, has performed well in spite of getting mixed reviews from audience and critics.
Just in: 'Yennai Arindhaal' 7 Days (First Week) Box Office Collections
The movie has raked in ₹31.25 crore (nett ₹24.04 crore) in Tamil Nadu, ₹2.75 (₹2.25 crore) crore in Kerala, ₹3.65 crore (₹2.81 crore) in Karnataka and ₹1 (₹75 lakh) crore from rest of India. The total gross business made by "Yennai Arindhaal" in the first weekend is ₹38.65 crore.
The film has made ₹3.10 crore in the US, ₹90 lakh in Australia and New Zealand and ₹1 crore in the UK. From other international circuits, the estimated business is about ₹10 crore to take its total tally to ₹53.64 crore in the first weekend.
Tamil Nadu Success Story
On the release day, "Yennai Arindhaal" had earned ₹11 crore in Tamil Nadu. The movie registered above 90% occupancy, on an average, in the theatres in the state. However, the movie ran into almost packed houses in all the shows in Chennai.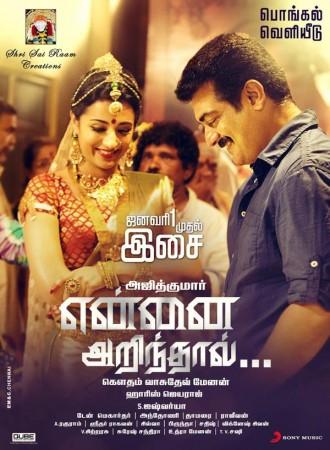 On the second day, "Yennai Arindhaal" made about ₹9 crore to take its tally to ₹20 crore in two days. In the next two days, the Tamil movie has made above ₹11 crore to end the first weekend by making ₹31.25 crore in Tamil Nadu in the four-day weekend.
In Chennai alone, "Yennai Arindhaal" has raked in close to ₹3 crore in the opening weekend. The movie had 486 shows in the Tamil Nadu's capital in the first weekend. However, the business made by the Gautham Menon directorial movie is said to be commendable given the fact that the film is a non-holiday release.