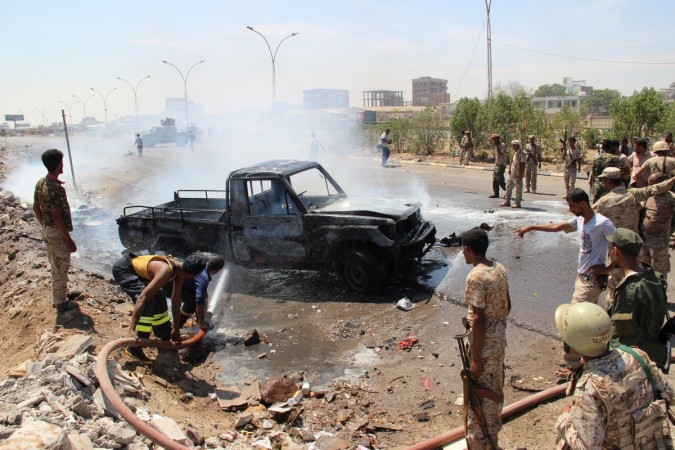 UPDATE: 15:52 p.m. IST — The toll from the suicide bombings in Yemen's port city of Aden has reached 45, NBC News reported. The Islamic State group, also known as ISIS, has claimed the attacks.
While 20 people were killed when a suicide bomber detonated his bomb-laden car outside an army recruitment centre, 25 others were killed when another suicide bomber standing among the recruits blew himself up.
Original Story —
At least 12 army recruits were reportedly killed and several others injured in a suicide attack in Khor Maksar district of Yemen's Aden city on Monday. The bomb blast apparently occurred when police recruits were standing in queue to register their names for military services.
Saudi-owned Al Arabiya, however, reported at least 30 people died when two bomb-laden cars exploded in the district.
The attack comes about a week after a suicide bomb blast outside the police headquarters in Mukalla city in south Yemen killed several police recruits.
Extremist outfits such as the Islamic State group and al Qaeda have been targeting parts of Yemen since the outbreak of a civil war last year. The Saudi Arabia-backed Yemeni government is meanwhile fighting the Iran-backed Houthi rebels who seized the capital Sanaa in September 2014.
The Associated Press cited a United Nations report as saying at least 9,000 people, mostly civilians, have been killed in the war since March last year.