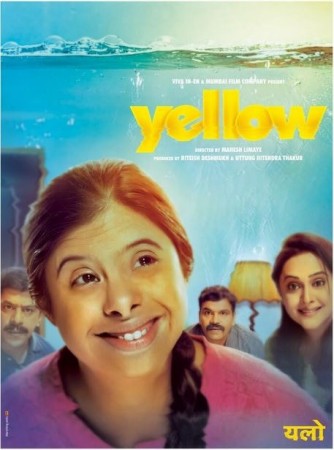 Critics, actors and filmmakers have showered praises on Riteish Deshmukh's debut production venture "Yellow".
"Yellow" directed by Mahesh Limaye is a Marathi film, which focuses on special kids. It tells the story of a girl, who has Down syndrome, and how she overcomes her problem.
It features Upendra Limaye, Aishwaraya Narkar, Usha Nadkarni and Mrunal Kulkarni in important roles.
Check out what actors, filmmakers and critics' have said about the film:
Dia Mirza: #Yellow a film that warms the heart and a story that inspires and seeks a change in attitude. Go watch Yellow. It will change you
Sophie Choudry: #Yellow is truth, heart, self-belief & very special! It'll make u feel SO proud of Indian cinema! Gauri & the cast r magic! Kudos @Riteishd
Ritesh Sidhwani: Guys #yellow is a must watch, you cannot miss this triumph of human spirit
Madhur Bhandarkar: A heart tugging inspirational marathi film#YELLOW.Brilliant Directorial debut by #Mahesh limaye.Kudos to Producers @riteshd & #uttungthakur.
Punit Malhotra: Also one of the best films I've seen.. YELLOW releases tom!! Triumph of the human spirit, very special. Love and luck to Mahesh & @Riteishd
Mihir Bhanage of The Times of India said: "There are films that put forth a strong social or humanitarian point through harsh reality and then there is 'Yellow'. Mahesh Limaye's debut directorial venture is nothing short of an intricately woven story, more specifically, Gauri's story of success and belief.
"Yes, it is a story of determination and will power but it is also the story of a beautiful mother-daughter relation and a coach's staunch support for his student. But most importantly, it is a story of transformation- the transformation of Gauri to Yellow."
Tushar Joshi of DNA said: "Yellow isn't just a story about overcoming your personal challenges, but it is also a lesson for each one of us to be grateful and feel blessed for the many things we take for granted. Yellow is the story of Gauri Gadgil, a girl with special needs whose love for water at an young age turns her handicap into her greatest strength.
"A must watch, Yellow makes a special place in your heart with its simple story about a girl's determination to not let any shortcomings come in the way of achieving her dreams. Go buy that ticket today!"
Manisha Lakhe in her review said: "The movie may be a wonderful, happy mini biopic about a young girl and her mother. But in reality it is a test of your humanity. Your capacity to deal with a curveball that life may throw at you.
"The writing is so good, I remember the dialog even days after I have seen the movie. And this has not happened for a long time.
"This film is about looking at life with yellow colored glasses. I will learn slowly, that I know. Watch the film. You'll learn much more about yourself than a wonderful happy world champion called Gauri."
(Edited by Vanilla Sharma)