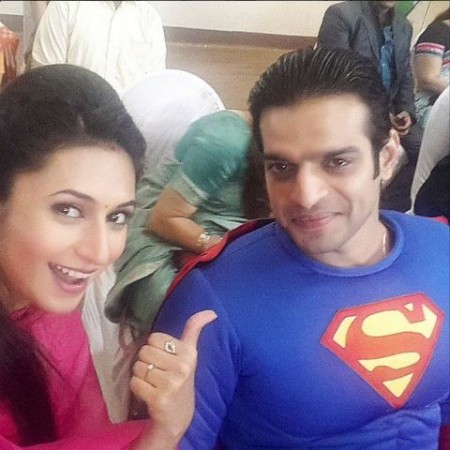 "Yeh Hai Mohabbatein" is nearing a show leap and its lead pair – Ishita (Divyanka Tripathi) and Raman Bhalla (Karan Patel) – is set to consummate their marriage. Interestingly, after all the hoopla around the big event, the makers may decide to shelve the idea of shooting intimate scenes.
It is being said that sequences in which the actors are shown getting physically close to one another lead to a dip in TRP ratings. Most shows are aired at prime-time slots and to watch sleaze with kids around puts the adults in a sticky situation.
"In 'Diya Aur Baati Hum', the lead pair is revered by audiences like Ram and Sita and people couldn't take it that the pair could consummate their marriage. I remember that even though DABH was the top-rated show at that time (when the leads were about to consummate their marriage), we saw that the rating of that particular episode, when they were shown getting intimate, was the lowest during the week," The Times of India quoted "DABH" producer Shashi Mittal as saying.
However, viewers mostly catch such episodes in the late-night repeats. Some even log on to YouTube to watch the missed section.
"...Most of the time, we plan a consummation scene before the show is about to take a leap and after the leap, we show the couple having a child. I think the promos might be backfiring because people might think, 'Chalo aaj story mein kuch khaas nahi hoga kyunki aaj toh inka consummation hai. Chachi aur bua koi game nahi khelenge," director-producer Ravendra Gautam added.
Now, it remains to be seen if the makers of "YHM" will drop the consummation scene to keep the TRP Ratings stable.
In other news, Divyanka has reportedly added a few conditions of her own to the scene. Apparently, she wants fewer people on the sets and clothes to be picked by herself.