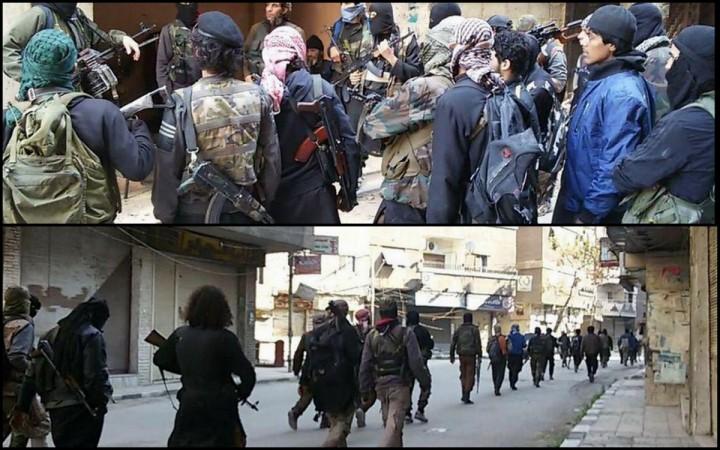 In the aftermath of the Yarmouk Camp beheadings, Hamas reportedly arrested a prominent Islamic State (Isis) preacher from Gaza, following which the supporters of the Sunni group bombed the Palestine Internal Security's main office at the Sheikh Radwan neighbourhood on Tuesday.
The Isis preacher, who was arrested on Monday on charges of recruiting people, has been identified as a radical Salafist imam, Adnan Khader Mayat.
"Adnan Khader Mayat from the Bureij refugee camp [in central Gaza] was arrested as part of an investigation," a source, speaking on condition of anonymity and without giving further details, told AFP.
Earlier last week, Isis had taken control over the Yarmouk camp in Syria, which houses one of the largest number of Palestinian refugees outside of Gaza. Since then Isis has beheaded several Palestinian men and there have also been reports of women being abducted by the Sunni militant group.
Following the arrest of the prominent Isis preacher in Gaza, the Islamic State supporters carried out a bomb attack near Hamas' headquarters. There were no causalities reported.
Reports claim that the Isis supporters used an improvised device to carry out the attack near northwest Gaza.
#IS - Relating to the situation of Yarmouk, Hamas captured Sh. adnan in Gaza pic.twitter.com/SPJ7Jjik0s

— imanSharia (@imanSharia) April 7, 2015
With Islamic State militants trying to consolidate their hold on Yarmouk Palestinian camp in Damascus, the United Nations which has now demanded access to the area, noted that the humanitarian situation inside the refugee camp was now "beyond inhumane".
In the meantime, Isis supporters have posted a message inside Gaza congratulating the militant group for 'liberating' the refugee camp.
A pro IS flyer in Gaza congratulating it on taking over Yarmouk camp in Syria pic.twitter.com/TDHWms9KrN

— Mohamed Yehia (@yeh1a) April 7, 2015