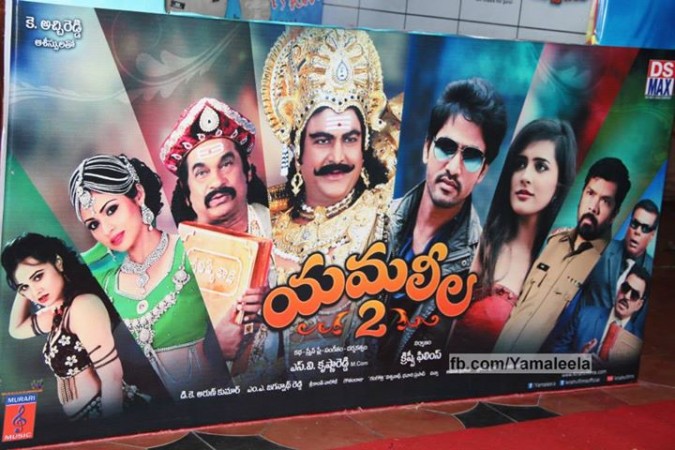 Ace director SV Krishna Reddy's much-talked about fantasy drama film, "Yamaleela 2", has hit the marquee on 28 November. The movie, featuring Dr KV Satish, Diah Nicholas, Mohan Babu and Brahmanandam in the lead roles, has garnered mixed response from the viewers.
The film is a sequel to SV Krishna Reddy's "Yamaleela" (1994) and the storyline of the film is similar to the original. The film seems to lack freshness and is also dragging in certain scenes. It has apparently failed to live up to the expectations that the film-goers had prior to its release.
Read "Yamaleela 2" viewers' review below:
KVP Pradeep
Picturisation of Titli song from #ChennaiExpress is copied #Yamaleela2 Pre-Interval scenes are good . Except those a pathetic 1st half #Yamaleela2 #MohanBabu -#Brahmi scenes worked well but many songs and Hero's performance is a big let down. Average overall #Yamaleela2
Kalyan Chakravarthi
Missed the magic of yamaleela in #Yamaleela2... Very slow and very boring...
Pavan Survi
"NO one can go but you can GO". Hint artham chesukunte adrustavanthulu #Yamaleela2 Okay. Here's my take on @Yamaleela2 - Fails to live up to the Funny Original
Andhra Box Office
#Yamaleela2 : Outdated and Boring Drama.
Crazy RObert
#Yamaleela2 Dr.K.V Satish anna adbutam ga natinchadu....konni scenes lo Ali kante baga chesadu
Kushal Reddy
#yamaleela2 @DiahNicolas @themohanbabu just watchd the movie movie is good never expected this from debutent hero"K.V.satish" @SaiBaahubali compare jr.ntr 1st movie ninnuchudali with #yamaleela2 hero & he does not have any experience & no filim backround
Abhishek Reddy
#Yamaleela2 lo narakam baga chupinchadanta ga SV Krishna Reddy
Tapasi RY
#Yamaleela2 is totally ridiculous ! Watchin dis movie is a suicidal attempt ! Such a holyshit it is... :/ :/
Andy
bhayyaa S.V.Krishna Reddy nuvvu kooda maro dasari narayana rao laga tayarayyavu kadayya #yamaleela2 aa jaffa gadini hero ga pettavendi S.V krishna Reddy vadikante nuvve hero ga chesi unte cinema ki janalu vachevaremo Dr. K.V. Satish and Mohanbabu nakka ki nagalokaniki unnanta difference Mohanbabu had 3 heroines and Dr.K.V.Satish has one