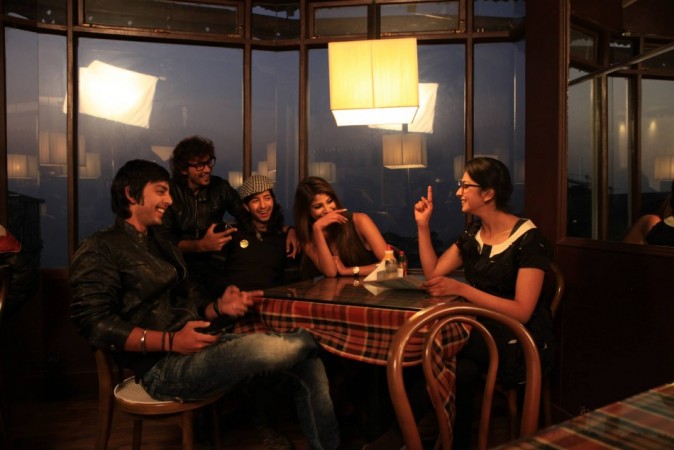 "Yaariyan" starring newcomers has opened to mixed reviews. Divya Khosla's debut directorial film is a college based romantic film.
The film features Himanshu Kohli, Dev Sharma, Serah Singh, Rakul Preet Singh, Nicole Faria, Deepti Naval and Gulshan Grover in main roles.
Read the reviews here:
Mohar Basu of Koimoi.com writes: "There is no valid reason for you to watch Divya Khosla Kumar's Yaariyan. It is dull, boring, pathetic and doesn't seem to get over. Have you ever tried Indian, Italian, American, Continental cuisines all together in the same evening? Trust me the film was a pathetic variation of the same and believe my word, it was a cinematic acidity of sorts which plagues the viewers. Filmmakers please show some respect for the wit of your viewers and your craft and spare us the horror of such movies.
"Every actor is so terrible that they clearly need a change of profession. Even credible stars like Deepti Naval and Gulshan Grover are reduced to mere caricatures.
"There is nothing to save this film. Divya Khosla Kumar does a dismal job at coming up with something way more amateurish than what mainstream films can come up with. The work is plain childish, her characters are superficial, her story is shallow and the execution is so shockingly feeble that there are no kind words for her product.
"2014 hasn't begun well. After Joe B Carvalho from last week and now this, I think the younger guns of the industry should find validated reasons to be filmmakers. It would be an understatement to say such a disastrous film wasn't made in a long long time and Yaariyan now ranks amongst one of those odd films that hit every Friday and move by without anyone noticing them."
Taran Adarsh of Bollywood Hungama writes: "I genuinely believe that the teenage years are the best phase of your life. When one is well ensconced in the dreamy world. When life is yet to throw challenges towards you... Divya Khosla Kumar attempts to encapsulate that period through the lead characters of her movie. In fact, it won't be erroneous to state that YAARIYAN attempts to pay tribute to that phase of an individual's life.
"The first half of YAARIYAN has its moments of fun, although the narrative tends to go astray at times. If one were to pinpoint the deficiencies, the romance between the professors appears forced in the narrative. Also, Himansh's cousin being attacked by members of the Australian team lacks conviction. The humor/liveliness also dries up after a point and one feels that the first half -- which commenced with lively and funny moments -- could've been succinct by at least 10/15 minutes.
"Gulshan Grover is wonderfully restrained. Deepti Naval and Smita Jaykar are perfect. On the whole, YAARIYAN has a gripping second half, smash hit musical score and the youthful romance that should lure and entice its target audience -- the youth. A treat for youngsters and young at heart!"
Saibal Chatterjee of NDTV writes: "Debutante director Divya Khosla Kumar thinks nothing of reducing this veteran epitome of on-screen restraint to bawling, howling, sobbing and sniffling. Yaariyan seeks to pass off the most putrid and regressive ideas as representative of the thoughts and aspirations of Generation X.
"Calling Yaariyan silly would be the understatement of the year. It is mind-numbingly idiotic. It is the sort of film that makes Student of the Year look like Au Revoir les Enfants.
"Yaariyan talks about a whole lot of other things - friendship, trust, patriotism, race attacks and tolerance - but makes no sense at all. It would make perfect sense to give this film a miss."