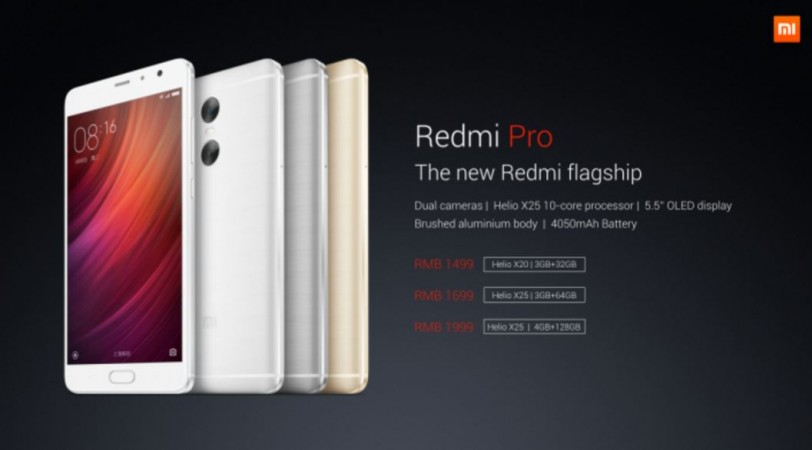 1:15 p.m. IST: That concludes the Xiaomi's event at the China National Convention Center, Beijing. Stay tuned. We will come up with detailed report on the Mi Note Air and the Redmi Pro devices later today.
Also read: Complete specifications and price details of Xiaomi Mi Note Air series
1:10 p.m. IST: Xiaomi Mi Note Air models-- 12.5-inch screen and another 13.3-inch display-- cost RMB 3,499 and RMB 4,999, respectively.
1:07 p.m. IST: Xiaomi Mi Note Air also comes in a 12.5-inch screen-size as well.
1:05 p.m. IST: The new Mi Note Air boasts NVIDIA GeForce 940 MX dedicated graphics card.
1:00 p.m. IST: The new Mi Note comes with Microsoft Windows 10 Home edition out-of-the-box. It also comes with Mi cloud storage bundle and the device can be unlocked with Mi Band, said the company.
12:56 p.m. IST: Xiaomi's new Mi Note Air comes with Intel Core i5 Processor, 8GB DDR4 RAM + 256GB PCIe SSD, and expandable SSD slot.
12:52 p.m IST: Mi Note Air comes with two USB v3.0 ports, one each Type C USB port, HDMI, and 3.5mm headphone jack and two SSD expandable card slots (inside).
12:50 p.m. IST: Mi Note Air boasts full-sized keyboard with backlit keys with 1.3mm key-stroke depth.

12:47 p.m. IST: The new Mi Note Air boasts 13.3-inch full-HD display having edge-to-edge glass protection.
12:45 p.m. IST: As the name suggests, new metal-clad Mi Note Air boasts an ultra-slim body. It measures 14.8 mm thickness, 13 percent thinner than rival Apple MacBook Air. It also features an 5.59mm ultra-thin bezels and weighs 1.28kg.
12:41 p.m. IST: As expected, Xiaomi has pulled the wraps of the company's first laptop series Mi Note Air.
12:40 p.m. IST: All three Redmi Pro come in Gold, Silver and Dark Grey colour options.
Read more: Complete features and price details of Xiaomi Redmi Pro
12:36 p.m. IST: In total, Xiaomi's Redmi Pro will come in three variants - one having, Mediatek Helio X25+4GB RAM+128GB storage, second with Mediatek Helio X25 +3GB RAM+64GB and the third featuring Mediatek Helio X20+3GB+32GB storage. They cost- 1999 RMB, 1699 RMB and 1499 RMB, respectively.
12:30 p.m. IST: The company also announced an another low-end Redmi Pro model and is said to come with Helio X20 series processor with 3GB RAM and 32GB inbuilt storage.
12:24 p.m. IST: Another rumour with regard to CPU has turned true. Xiaomi just confirmed that Redmi Pro will be powered by the Tri-cluster architecture-based 2.5GHz MediaTek Helio X25 deca-core SoC (System-on-Chip), which house two Cortex-A72 cores and eight Cortex-A53 cores. It is backed by Mali-T880 graphics engine, 4GB RAM and 128GB and a 4,050 mAh battery.
12:20 p.m. IST: As teased by the company last week, Redmi Pro features OLED display, which is said to be more power efficient compared to LCD screen panels. It features 5.5-inch full HD screen with 2.5D glass. It also houses physical home button, which also doubles up as the fingerprint sensor.
12:15 p.m. IST: As rumoured before, Redmi Pro camera boast Bokeh-effect feature seen in DSLR (Digital Single Lens Reflex) cameras. It is assisted by dedicated depth of field image chipset- ImagiQ. On the front, it houses a wide-angle 5MP snapper.
View this: Xiaomi Redmi Pro models

12:00 p.m. IST: The new Redmi Pro boasts two cameras on the back with "Dyanamic depth of view". It features a 13MP primary camera with Sony IMX258 sensor for still images and a seconday 5MP secondary snapper with Samsung sensor to capture depth information
11:55 a.m. IST: Xiaomi announces the metal-clad Redmi Pro
Update- 11:45 IST: Xiaomi has provided video live streaming link for region specific to China. Check out the link below to watch Redmi Pro launch event.
Original story:
In about a few hours, Xiaomi is expected pull the wraps off the much awaited Redmi Pro (Redmi Note 4) in Beijing.
The company is hosting the launch event at Beijing National Convention Center later this afternoon. Unlike previous times, Xiaomi for reasons unknown, is not streaming the programme live on the official website.
On the bright side, the company's official community forum ENMIUI has opened a special thread to provide live updates on the launch event's proceedings with photos. [live update link is given below]
Highlight of Xiaomi's Beijing event:
By now, everybody is aware that Xiaomi's event is confirmed to witness the launch of the Redmi Pro (aka Redmi Note 4), but there is a another surprise device announcement as well. Multiple reliable reports have emerged online that Xiaomi is expected to unveil the company's first laptop Mi Note series.
Xiaomi Redmi Pro: What we know so far
From what we have gathered so far, the Redmi Pro is expected to sport a full-metal cover on the back, a 5.5-inch full HD display, Android 6.0 Marshmallow-based MIUI 8, dual camera module on the rear, MediaTek Helio X25 deca-core SoC (System-on-Chip), and 3GB/4GB RAM, 32GB/64GB inbuilt storage and 4,100mAh battery power.
Read more: Xiaomi Redmi Note 4 aka Redmi Pro final round-up
Xiaomi Mi Note laptop: What we know so far
The upcoming Mi Note laptop series is said to come with metallic body with ultra-slim bezels, USB Type-C port and USB v3.0 port.
Based on internal SoC (System-on-Chip) configuration, it will come in two variants -- one, entry-level model having Intel Core i5 CPU, 8GB of RAM, and 256GB of storage and another a top-end variant with 15.6-inch screen, an Intel Core i7 -6700HQ processor, an NVIDIA GTX 970M 4GB DDR5 graphics card, 16GB DDR4 RAM, and 512GB of SSD storage.
They are expected to cost ¥3999 (around $600/€545/ Rs. 40,314) and ¥6699 (around $1004/€913/Rs. 67,533), respectively.
Read more: Xiaomi's first laptop price, specs, design leaked
Readers can check out ENMIUI website for live updates on Xiaomi's Redmi Pro event, HERE and watch live webcast, HERE.