Xiaomi had recently hiked prices of some of its products, including the Redmi 6, Redmi 6A, Mi LED TV 4C Pro and Mi Power Bank 2i, due to the rupee depreciation. But a viral message spread across social media and WhatsApp suggested that the Chinese smartphone maker is increasing the prices of some of its products once again.
As per the viral announcement notice making the rounds of the internet suggested the prices of Redmi Note 6 Pro, Redmi 6A and Mi Air Purifier 2S would be hiked as a result of "rising custom duty and raw material prices." According to the notice, the aforementioned Xiaomi products would witness a price hike of up to Rs 600 starting December 29, 2018.
If the surprise announcement disappointed you, Xiaomi's Global VP and MD, Manu Kumar Jain has some good news to release the pressure. In a tweet on Friday evening, Jain confirmed that the viral price hike announcement is fake and Xiaomi India has not increased any prices. Jain further requested fans to "NOT believe fake news"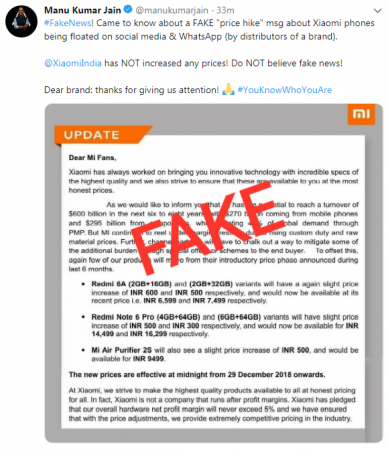 The fake price hike message shared online suggested that the Redmi 6A (2GB+16GB) would witness Rs 600 hike and the price of 3GB+32GB variant would be up by Rs 500. This would mean the phones would sell at Rs 6,599 and Rs 7,499, respectively.
Similarly, the Redmi Note 6 Pro with 4GB RAM would get Rs 500 bump in price to sell at Rs 14,499 and the 6GB RAM variant would sell at Rs 16,299 – Rs 300 more than its current price. Finally, the notice mentioned the price of Mi Air Purifier 2S would be revised to Rs 9,499, which is currently available for Rs 8,999.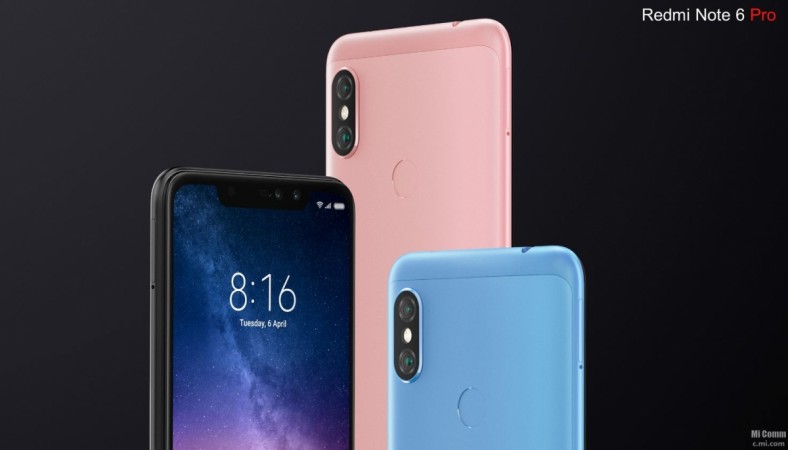 Anyone reading the fake announcement would easily fall for it seeing it followed Xiaomi's template for important notices. Luckily, Jain came to the rescue of millions of fans, who will now be at peace.