Xiaomi has released Redmi Note Android phablets with two variants: The Redmi Note 4G and Redmi Note 3G. We have already reviewed the Xiaomi Redmi Note 3G device in detail.
Read the Redmi Note 3G review here.
Following a Delhi High Court ban, the MediaTek SoC based Redmi Note 3G is not available for purchase in the Indian market but the Qualcomm variant Redmi Note 4G is available for purchase and happily, we received this device for review.
Indian telecom provider Airtel has already launched their 4G service to selected parts of the country including Bangalore and Kolkata. Another major Telecom company Reliance is about to launch their Jio service in India. Along with these two, several others are also getting prepared to release 4G service across India. Though the service is not affordable yet, several smartphone manufacturers have already started bringing affordable Android based 4G devices in India. And Xiaomi Redmi Note 4G is one among them.
Let's discuss in detail the major differences between the Redmi Note 3G and the Redmi Note 4G smartphones.
Major Differences
Both the variants feature the same form factor, measurement and weight. The looks, feels and operation are pretty identical too. But the Redmi Note 4G features a single SIM slot with 4G connectivity. The 4G edition also accepts 64GB micro SD cards while the 3G edition supports only up to 32GB of micro SD cards. For testing the feature, we inserted a 64GB card inside and it managed to play all the songs and videos flawlessly.
The Redmi Note 4G also runs on Android 4.4.2 comparing to the Redmi Note 3G's Jellybean 4.3, naturally the Note 4G gives better battery life compared to the 3G model. Both the edition features similar edition of MIUI interface, 13mp and 5mp camera, 720p Display, 8GB in-built storage and 2GB RAM memory.
Another major difference is the featured System on Chipset. Comparing to Redmi Note 3G's Octa-Core 1.7GHz MediaTek SoC, the Redmi Note 4G features a Qualcomm 1.6GHz Snapdragon 400 SoC .
Difference in Performance
We used both the devices for months and didn't find any major differences in performance. As we mentioned earlier, it's really tough to differentiate each other for their similar looks and features.
Redmi Note 4G performed well in our real-life multi-tasking and web surfing test. Surprisingly, the Redmi Note 4G felt slightly inferior than the 3G variant in gaming and memory hogging applications. Our doubt came true when we tested the device through our benchmarking sites. While the 3G edition achieved the whopping 33,131 in Antutu Benchmarking test, the Redmi Note 4G achieved only 21719. We didn't believe our eyes at first so ran the test thrice but found the same result.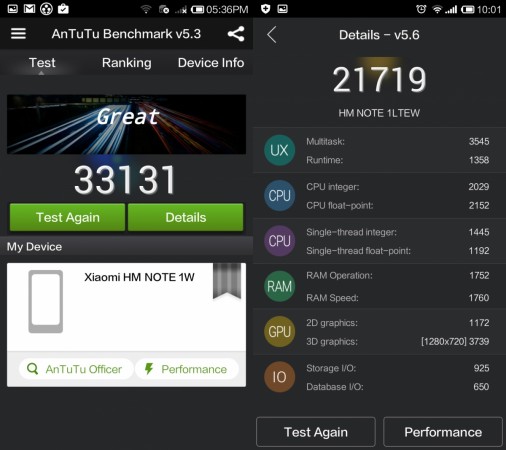 But don't write it off for the on-the-paper specifications and tests. The Redmi Note 4G is a good device that can perform well.
What About 4G?
There is no doubt that 4G connectivity is the future of Internet but going through the current tariffs, it's not affordable for everyone. To be frank, people who can afford current 4G service, would prefer buying flagship and more expensive lifestyle devices. Meanwhile, spending ₹1,000 more for a 4G edition is not a bad choice either.
Competition
The biggest competitor of Redmi Note 4G is Micromax's Yu Yureka smartphone, which comes almost ₹1,000 cheaper than the Redmi Note 4G yet it gives a subtle performance. The Yu Yureka is only available through advance booking through Amazon, while the Redmi Note 4G also has an offline presence too through Airtel's brick-and-mortar stores along with the online flash sales via Flipkart.
Lenovo is also bringing a 4G smartphone, A6000, which is also expected to be priced within ₹10,000. So that would be another interesting option to go for.