Which device do you think is the top-selling smartphone in India? Budget and mid-rangers dominated the second quarter of 2017 and not the flagships or high-end handsets. A research study revealed Xiaomi Redmi Note 4 is the most sold device in the country in the last quarter ending June, followed by Redmi 4, Samsung Galaxy J2, OPPO A37 and Samsung Galaxy J7.
According to a research by Counterpoint's Market Monitor service, Xiaomi Redmi Note 4 is the top smartphone model in India in the Q2 2017 with a share of 7.2 percent followed by Xiaomi Redmi 4 with 4.5 percent, Samsung Galaxy J2 (2015) with 4.3 percent, OPPO A37 with 3.5 percent and Samsung Galaxy J7 (2015) with 3.3 percent.
Also read: Huawei, Oppo, Vivo, Xiaomi rule Chinese smartphone market in Q2 2017

Interestingly, the top two smartphones are priced under Rs 10,000. The Redmi Note 4 price starts at Rs 9,999 for the base variant and the top model is priced at Rs 12,999, whereas the Redmi 4 is priced between Rs 6,999 (lowest model) and Rs 10,999.
It is not unexpected as one million units of Xiaomi Redmi Note 4 were reportedly sold in the first 45 days of its launch in India and Redmi 4 quickly goes out of stock every time it is put up for sale.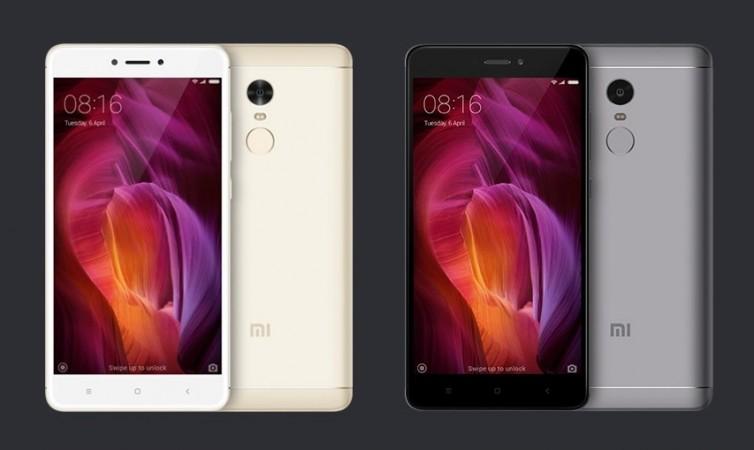 "Xiaomi's comeback can be attributed to strong demand for its sub-Rs10K portfolio, making the Redmi Note 4 the top-selling model in the first half of 2017. This is the first time any brand has been able to topple Samsung which has held the best-seller slot for its models over the last four years due to its enormous reach and scale!" said Counterpoint Associate Director Tarun Pathak.
However, Samsung is still the undisputed leader in terms of mobile phone market share in India. Its handset shipment market share in Q2 2017 is 25.4 percent, followed by ITEL (10.2 percent), Xiaomi (7.2 percent), Micromax (7.1 percent), Vivo (5.9 percent) and others (45.2 percent).

The South Korean technology giant leads smartphone shipment market share too during the Q2 of this year with a 24.1 percent, followed by Xiaomi (15.5 percent), Vivo (12.7 percent), OPPO (9.6 percent), and Lenovo (6.8 percent). It also holds 26.6 percent market share in feature phone category. ITEL is in the second position, followed by Micromax, Lava and Intex.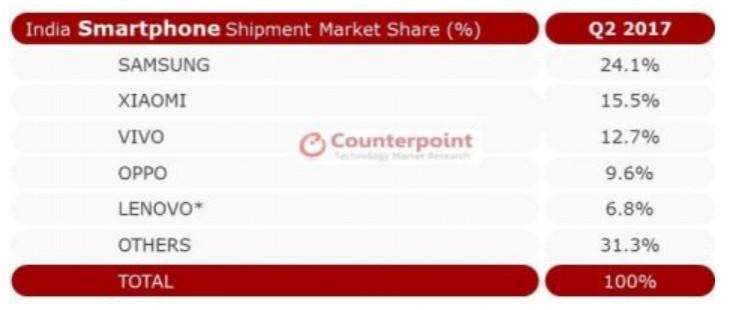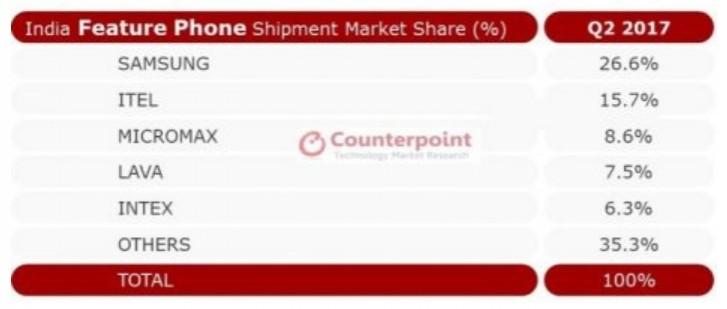 According to the research, LTE based handsets in India have crossed 150 million units in Q2 2017, only behind China and USA. Smartphone shipments in the country grew by 4 percent YoY in Q2 2017 and the top five brands contributed to almost 70 percent of the total smartphone market. However, local brands have failed to make it to the top five list.
"Local brands did relatively well during the quarter after three quarters of lull but still have a significant task cut out to reclaim the market share back from rivals. Then again, Chinese players such as OPPO, vivo and Gionee continued to outspend their rivals during the quarter especially riding high on the IPL and Champions Trophy cricket tournaments," said Counterpoint Research Analyst Karn Chauhan.

Shobhit Srivastava, Research Analyst at Counterpoint said uncertainty and confusion ahead of the GST roll out by the Indian government could have affected the industry in Q2 but expect better business in second half of the year.
"Although, shipments were impacted in anticipation of GST roll-out especially in June, retailers were quite hesitant in adding new stock into the channels during the last month even though there was some assurance from the OEMs to support pre-GST channel inventory clearance. Going forward, we estimate the market to jump back to double digit growth ahead of a festive season in 2H 2017," said Srivastava.