As promised, Xiaomi has commenced the third stage of the MIUI 10 Global ROM Beta roll-out bringing the latest features to old generation devices.
In this phase, the company is rolling out the Android Oreo-based MIUI 10 to the Xiaomi Mi 4, Redmi Note 3, Redmi 3S, Redmi 3X, Redmi Pro, Redmi Note 4, Redmi Note 4X, Redmi 4, and Redmi 4A.
When will the public version of MIUI 10 Global ROM release?
After taking the feedback from public testers, Xiaomi will conduct one final test to weed out any possible glitches. If things go as planned, the final MIUI 10 Global ROM version is slated to seed in early September.
What new features are coming in MIUI 10 Global ROM?
Responsive and fast
The company is promising MIUI 10 will make the Xiaomi devices will work faster in terms of app loading, camera launch, playing games and more. It also comes with two critical system optimisations—Lock-free critical path and Codependent prioritizing, which improves the overall responsiveness of device by 10 percent compared ones running the MIUI 9 series.
Designed for Full-Screen Experience
Now that the widescreen with 18:9 aspect ratio is becoming the norm in the smartphone industry and most importantly in all recent Xiaomi phones. MIUI 10 will enhance the user experience with its upgrades in design, speed, AI and sound.
The new MIUI 10 comes with several easy-to-use full-screen hand gestures without the need for virtual buttons, along with new features such as more content in the tiled taskbar and improved swiping gestures (up and down for switching tasks, sideways to end current task), users will be delighted at the increase in their multitasking efficiency.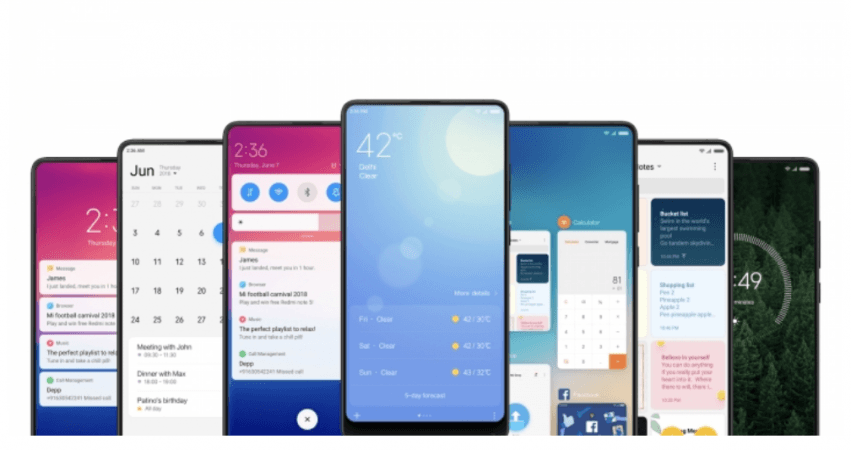 The company promises that users will be able to seamlessly switch to full-screen gestures similar to the iPhone X. Besides, MIUI 10 will provide a much more productive experience with a completely redesigned recent apps menu showing up to 5 apps in one screen.
AI Portrait Picture for single lens camera phones
With MIUI 10, Xiaomi is also bringing AI Portrait feature from both the front and back cameras for single lens camera phone similar to the Google Pixel series. With this feature, users can change the focus on the foreground and blur the background
Devices eligible to receive AI Portrait feature for front cameras: Mi MIX 2/Mi 6/Mi 5s Plus/Mi 5s/Mi 5/Mi Note 2/Mi Max 2/Mi Max/Redmi Note 5(India)/Redmi Note 4(India)/Redmi Note 4X/Redmi Note 3/Redmi 5/Redmi 4/Redmi 4X
Devices eligible to receive AI Portrait feature for rear cameras: Mi MIX 2/Mi 5s/Mi 5s Plus/Mi 5/Mi Note 2/Mi Max 2/Mi Max/Redmi Note 4(India)/Redmi Note 4X/Redmi Note 3/Redmi 5/Redmi 4/Redmi 4X
Natural ringtones:
With MIUI 10, Xiaomi brings a completely new range of sounds. From notifications to audio feedback and ambient sounds from an app like the timer with nature-related water droplets, rain, sand dunes in the wind on a desert, forest sound with waterfall effect, ocean wave sound and more. These ringtones soothe the users' mood rather than annoy them. MIUI 10 is also designed in a way that will reduce the aural clutter.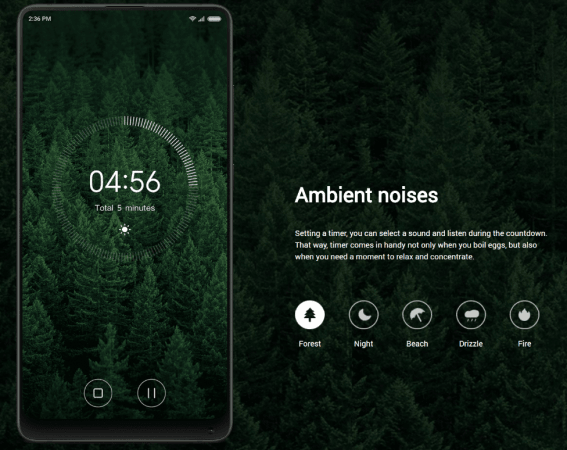 Customized for India
MIUI 9 came with personalised theme for India including the pachanga calendar, festival-related wallpapers and more, Now, the new MIUI 10 follows up the region-specific feature such as the camera app doubling up as a Paytm QR code scanner, a local service page in the inbuilt browser with full support for PWA (progressive web apps), and the content-rich libraries of Mi Music and Mi Video ensure a great, entertaining and an ergonomic experience.
It also adds a quick menu tab to all business messages, which allows users to explore more about the service with one tap.
List of devices eligible for Xiaomi MIUI 10:
Xiaomi has confirmed to release MIUI 10 ROM will be made available to Mi 8, Mi MIX 2S, Mi MIX 2, Mi MIX, Mi 6X, Mi 6, Mi 5, Mi Note 2, Redmi S2, Redmi Note 5, Mi Note 3, Mi 5X, Mi 5c, Mi 5s, Mi 5s Plus, Mi 4, Mi 4c, Mi 4S, Mi Max 2, Mi Max, Redmi 5, Redmi 5A, Redmi 5 Plus, Redmi 4, Redmi 4A, Redmi 4X, Redmi 3S/Redmi 3X, Redmi Pro, Redmi Note 5A, Redmi Note 4 (Qualcomm), Redmi Note 4X, Redmi Note 4 (MTK) and the Redmi Note 3 (Qualcomm).
Stay tuned. Follow us @IBTimesIN_Tech on Twitter and on Google News for latest updates on Xiaomi and MIUI 10 release schedule.