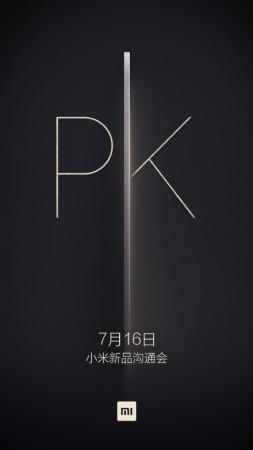 There are a lot of flagship smartphone releases lined up for this year. Reasonably priced smartphones with premium features draw shoppers' attention. Xiaomi successfully set a trend of premium budget phones and will soon add a new member to its smartphone family. The Chinese tech giant is expected to launch its latest flagship, Mi 5, on 16 July. The company has sent out invites for the event, but the details have been kept under wraps. However, a glimpse of what appears to be the first official look at Xiaomi Mi 5 is seen, reports Techno Buffalo.
According to the teaser in the invite, Xiaomi Mi 5 is expected to feature a super-thin profile with metal frame or a unibody design and curved edges. While nothing has officially been confirmed by Xiaomi, rumours and speculations about the upcoming smartphone have listed the possible specs and features.
Going entirely by the leaked reports and inside tips from sources, Mi 5 smartphone is expected to get the best treatment so far. We have listed 6 major upgrades expected in the Mi 4 successor below:
Display
Xiaomi Mi 5 reportedly features a 5.2-inch Quad HD display with screen resolution of 1440x2560 pixels, which is the upcoming standard in all flagship smartphones and a whopping 554ppi density. In addition, the screen will be protected with Gorilla Glass 4, which is also a latest feature, along with 2.5D edges, similar to iPhone 6. If true, we can expect the clarity on Mi 5 to be impressive.
Camera
The camera in Mi 5 will be a major upgrade as reports hint at a 16-megapixel rear-facing sensor along with a 6MP front snapper. However, Techno Buffalo suggests the selfie camera is going to be a 13-megapixel sensor.
Fingerprint Scanner
Fingerprint scanning is currently the most advanced form of authentication in smartphones. Apple, Samsung, HTC have adopted the new standard and Xiaomi will soon follow the feat with its own fingerprint scanning technology, dubbed as Sense ID. According to Tech Firstpost, the sensor works on ultrasound tech and not the optical technology as found in the current models.
Processor
According to an earlier report, Xiaomi Mi 5 will sport a Qualcomm Snapdragon 820 SoC, but other reports suggest the latest processor will come in the rumoured Plus size variant instead of Mi 5 itself. According to Techno Buffalo's spec-sheet for Mi 5, which comes from China's Weibo account, the handset will sport a Snapdragon 810 processor.
RAM and Storage
There is nothing concrete on the RAM space, but media reports suggest a whopping 4GB RAM for Mi 5. The handset is expected to come in 16GB and 64GB storage variants with microSD card expansion option.
Software
Xiaomi is working on a new user interface for the upcoming flagship. The company is working with Android Open Kang Project (AOKP) on the all-new MIUI 7, which is based on Google's latest Android 5.0 Lollipop.
According to AOKP blog, "The UI will evolve with the user, and thus a few months after usage, the UI of each Mi 5 phone will be different – personalised to the traits of it's individual user."
But not everything is an upgrade!
Despite all these upgrades, it is quite surprising to see rumours suggesting a 3,000mAh or a 3,030 battery, which is comparatively smaller than Mi 4's 3,080mAh unit. Although the difference isn't much, improving on the battery life in successive smartphones is widely recognised.