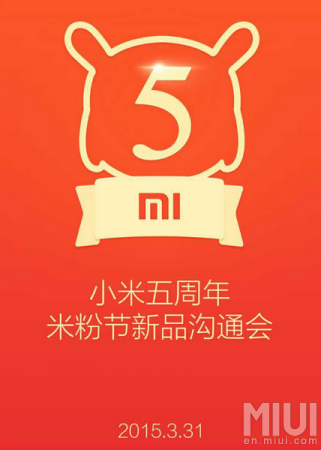 Xiaomi is vigorously expanding its product portfolio to compete with other tech giants in the industry. After launching a new TV model in China on Tuesday, the company has some bigger plans for its 31 March event.
Xiaomi wants to have an unbeatable collection of devices before it turns five next month, so the upcoming event will be a big on for Xiaomi fans. There are rumours that the company might launch more than one device, including the rumoured Ferrari smartphone alongside a smartwatch, according to the company's blog.
If true, this will be Xiaomi's first ever smartwatch to compete against the army of existing wearables in the market. As a successor to the successful Mi Band, the Xiaomi smartwatch will focus on attracting the budget conscious lot as the company has long focused on low-pricing strategy.
A report from earlier this month suggested Xiaomi's smartwatch will take on Apple Watch but details on the hardware and software specs are limited for now. Accumulating all the rumours and speculations about the unannounced wearable, here's a list of top five features we expect the smartwatch to boast when it is launched this month.
Display
If the recent rumours are to be believed, Xiaomi is considering a round-dial for its first smartwatch, a smart step considering the demand for traditional watch design. The smartwatch is expected to feature brushed metal design that will add to attraction of the wearable. Details on the size and resolution are from available to speculate.
Sensors
All smartwatches come with great fitness-tracking capabilities. Heart rate sensor, steps counter and blood pressure monitor are usually found on renowned smartwatches such as Apple Watch. If Xiaomi is taking an aim at Apple Watch, it is important that all sensors be integrated to track wearer's activities.
Battery
Smartwatches are widely criticised over short battery. The small size of the device makes it hard for manufacturers to pack a greater capacity battery. But if Xiaomi can manage to squeeze in some extra hours of life in its smartwatch, it can serve as a great USP over competing watches. Under normal situations, the smartwatch might at least offer a full-day of mixed usage, like most smartwatches do.
OS
Since all Xiaomi smartphones and tablets are powered by Android, it is not too hard to imagine the Mi Watch to run on Google's Android Wear platform. To add a personal touch to the watch, Xiaomi might layer its own MIUI skin, as seen in the company's smartphones.
Price
Xiaomi has made a brand image out of its affordable product portfolio. Effective pricing is the key selling-point for Xiaomi. Since the wearable industry is still booming, the Chinese tech giant may be able to disrupt the current fashion of pricey smartwatches. It will be interesting to see Xiaomi to tag its watch with a cheap price tag, most appropriately under $200. While it is too soon to speculate, we can have official details on 31 March when the company's CEO Lei Jun takes the stage to make the announcement.