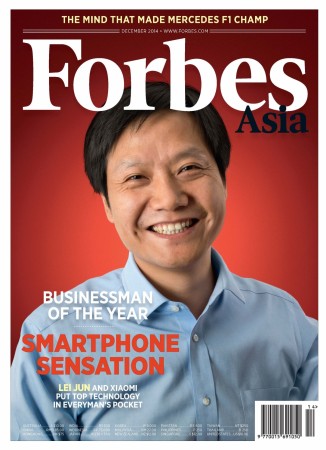 Xiaomi's CEO Lei Jun has been named the Businessman of 2014 by Forbes Asia.
Xiaomi, the upstart company from China, has been able to carve out a market for itself in Asia in a very short time with its affordable, high-end smartphones.
"This has been a remarkable year for several Internet companies in Asia, but as everyone involved with the Web these days knows, mobile devices are becoming the keys to the kingdom. No one is transforming the mass market for smartphones, with quality and affordability, more than Lei Jun's Xiaomi," Tim Ferguson, editor of Forbes Asia said in a statement.
The 45-year-old billionaire founded Xiaomi, which means "small rice" in Chinese Mandarin, four years ago but in a short span of time Xiaomi's handsets have lapped up a considerable share of Asia's mobile market competing with bigwigs like Samsung and Apple.
Xiaomi has yet to enter the U.S. or European markets but it has emerged as a frontrunner in Asia's mobile handset market. In fact, Xiaomi's sales exceeded Apple's in China for the third quarter of 2014. It also beat older rivals like Lenovo to gain the lion's market share in the country.
It now ranks third after Samsung and Apple in the global mobile market. In the first half of 2014, Xiaomi's sales exceeded $5.5 billion alone.
The man spinning all the magic behind Xiaomi's success is a hardworking leader, who works 100 hours a week himself. Lei had a vision right from the start.
"From the first day I founded Xiaomi, my goal was to make a global company," he told Forbes in an interview.
But Lei's dreams have expanded. He thought Xiaomi could be a billion dollar company, but today he plans on making it a multi-billion dollar company.
"The most important thing is to focus, focus, focus. If I have an IPO today, everyone will be rich, sell their shares, buy a house, buy a car and emigrate," he said adding that the bigger a company gets, the more managing it will need.
At the recent World Internet Conference, Lei said that Xiaomi was poised to become the world's best smartphone company in the coming five or 10 years. He expects its user base to triple from the current 70 million to 200 million.
"I believe that no one thought the Xiaomi from three years ago, which just made its first phone, would later rank as the third largest player. Within five or 10 years, we have the opportunity to become the number one smartphone company in the world," Lei said at the conference.
Lei also has diversification plans for Xiaomi. The company is all set to release its television line in China and has plans of developing networked appliances and other gadgets.
Lei Jun has been compared to Apple's Steve Jobs considering the immense success of Xiaomi. But the CEO, whose net worth is pegged at $9.1 billion as of October by Forbes, said that Xiamoi is different from Apple.
"They [Apple] don't really care about what the users want. They imagine what the users want. Xiaomi is different," Lei said in an earlier interview with CNN Money.
"Xiaomi's priority is not revenue, not profit, nor market share," Lei said. "We focus on making the product that makes users scream."