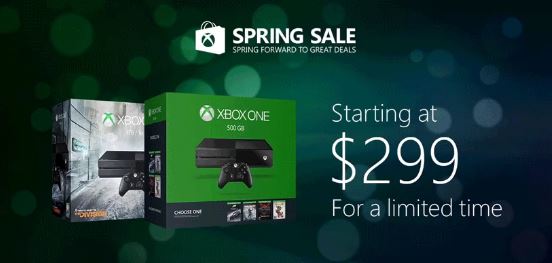 It is time to grab some great deals from Microsoft, as the tech giant announced a new Xbox Spring Sale that will start March 20 and run until March 28.
Starting March 20, Xbox One will be priced at a special $299 for a limited time, Xbox's Major Nelson aka Larry Hyrb, director of Xbox programming at Microsoft, announced in a blog post.
The Xbox Spring sale will offer players $50 off on several Xbox One console bundles, which includes the recently-released Xbox One "Tom Clancy's The Division" Bundle, the Xbox One 500GB Name Your Game Bundle (that lets players choose one in four games).
Starting March 22, Xbox Spring Sale will feature deals on Xbox Store for digital Xbox games, PC games and Movies and TV.
Xbox Spring Sale has more than 150 offers, where some games are discounted for more than 60 percent and others will be offered with up to 40 to 60 percent discounts. Some of the video games that will be featured in the sale include the likes of "Fallout 4," "Halo 5," "Black Ops III," "Far Cry Primal," "Rainbow 6 Siege" and others.
This is not all, the Spring Sale is also offering deals on several backwards compatibility games like "Fallout 3" and "Just Cause 2."
Major Nelson also urged Xbox users who have not yet joined the Xbox Live Gold subscription programme to join, since it will offer them the ability to unlock more discounts (up to 10 percent) in the games. He also noted that every year, the programme gives up to $700 in free Games with Gold titles.