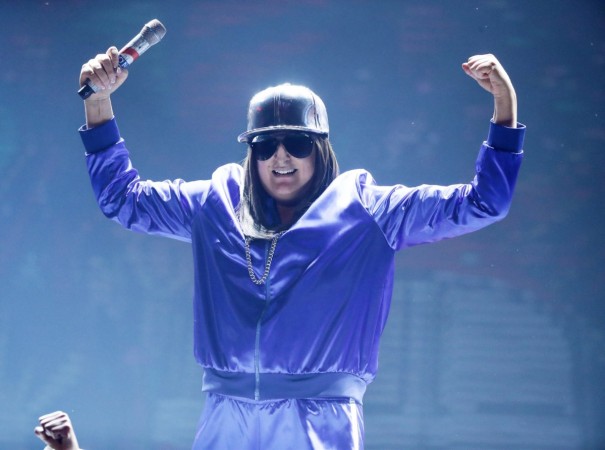 X-Factor contestant Honey-G was disrupted by some mysterious invaders during her live performance. Four internet pranksters reportedly stormed the rapper's live performance, while trying to steal her trademark cap and sunglasses.
X-Factor judge Simon Cowell looked shocked and ran to the controversial singer's aid, while a security guard was seen rushing towards the stage.
One of the four invaders was identified as convicted criminal Daniel Jarvis. He is a part of the infamous group of You Tube pranksters named TrollStation.
Jarvis also posted a brazen video just before disrupting the show on Saturday, November 26. In that five-second clip, the prankster was seen holding his finger to his lips before winking at the camera. Jarvis also put the caption: "Making my X factor debut today so excited. Live on itv1 from 8pm!!!"
About the invasion, head judge Simon Cowell said, "I'm so sorry about that. At one point I thought it was part of the act."
Sharon Osbourne laughed and addressed Honey: "See you drive people wild with excitement."
Another X-Factor judge Dermot added: "We had a stage invasion, three punks thought they could come on and take on Honey G. Nah, I don't think so."
"Forget that. You've got a second song. Don't let that bother you. Come back believing you are a star," Simon added further.
Three other invaders are reportedly identified as James Slattery, Endrit Ferizoli and a man who is known as Stines.
They planned the prank and chose Honey G because she is the entertaining act of the show, Daily Mail reports. Amina Maz, a member of the group, who also filmed the entire incident from the crowd, said: "We chose X Factor because it gets millions of viewers each week and Honey G is considered as being the entertaining act of the show."
"We did not disrupt her performance and waited until she had finished."
Trollstation tweeted their involvement, posting a video of the stage rush captioned: "X Factor invasion."
The pranksters were also involved in the prank at the art gallery last year and were jailed for a combined total of 72 weeks earlier this year.