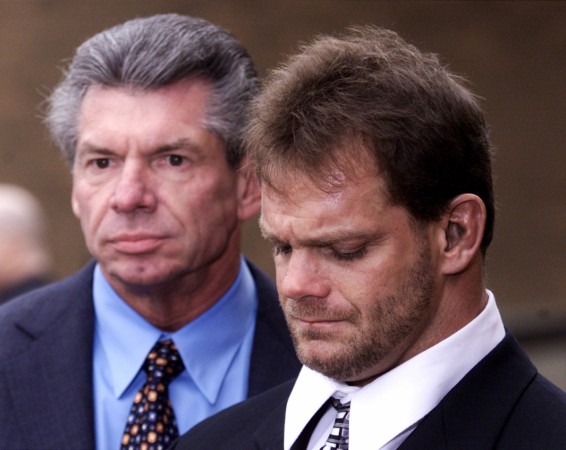 Concussions in pro wrestling are an absolute routine affair with the athletes connecting with so many devastating shots to the head -- from heel stomps to steel chairs and ladders and so on. The attitude era of the WWE was as lethal as it gets with so many injuries happening to famed pro wrestlers.
The late Chris Benoit remains the biggest example. Although there has been several theories to the death of the technically gifted pro wrestler, the numerous amounts of concussions he has suffered over the years in the business has no doubt affected him.
Recently, WWE wrestler Alberto del Rio spoke to International Business Times, India and said that the current product televised to the audiences is a thorough PG one -- devastating shots to the head are no more a routine affair. However, having said that, the amount of pro wrestlers with numerous concussions who have faded into oblivion over the years are plenty.
On Monday, it was reported that over 50 WWE wrestlers of the past, including Jimmy 'Superfly' Snuka, the 'Road Warrior Animal' and 'King Kong Bundy' filed a 214-page lawsuit accusing the company of failing to protect its pro wrestlers and keeping them in complete dark about the risks involved with long-term injuries to the brain.
The WWE is accused in the lawsuit of failing to care for wrestlers' repetitive head injuries "in any medically competent or meaningful manner" and misrepresenting and concealing the nature of long-term neurological injuries they suffered as a result of their careers.
"[WWE] placed corporate gain over its wrestlers' health, safety and financial security, choosing to leave the plaintiffs severely injured and with no recourse to treat their damaged minds and bodies," the former pro wrestlers mentioned in the lawsuit, filed on Monday at the federal court in New Haven, Connecticut. Read the full lawsuit.
The suit also accuses the Stamford, Connecticut-based WWE, and its chairman Vince McMahon of failing to provide health insurance or medical support once the wrestlers' careers ended. They also mentioned that the pro wrestling company also classified the athletes as "independent contractors" rather than employees.
According to the complaint, the likes of Snuka, 72, and 'Road Warrior Animal' Joe Laurinaitis, 55, Snuka, 72, have stated that they have suffered routinely from cognitive difficulties including headaches, dizziness and memory loss, leading to depression and mood swings.
The WWE, however, is confident that the suit will stand dismissed. "This is another ridiculous attempt by the same attorney who has previously filed class action lawsuits against WWE, both of which have been dismissed," said the pro wrestling company. "A federal judge has already found that this lawyer made patently false allegations about WWE, and this is more of the same."